Over one hundred years since George Ure Reid (Senior) first attended the Academy (c.1900 – 1904), thirty members and multiple generations of the Ure Reid family returned to Dollar for an incredible reunion – 'The Ure Reid Clan Gathering'.
Organised by the Academy Archivist, Janet Carolan, and FP & Development Registrar, Kirsty Molnar, the event took place over Sports Weekend 2023, and is described below by Catriona Helen Ure Reid:
"I think the first mention of trying to organise an event was back in 2015, during a mini family get-together hosted by our elderly aunt in Eastbourne (Sandy Ure Reid´s widow, Valerie).
The next serious suggestion was after Dad´s funeral (Alister Ure Reid) in January 2019.  John Ure Reid´s son, David Reid, was instrumental in setting up an organising committee and contacting as many members of the family as possible, across the generations.
Numerous zoom calls later, and after several failed attempts to hold the event, due to Covid, in May 2020 and May 2021 we finally successfully managed to hold our Clan Gathering in Dollar at Sports Weekend 2023.
All descendants of George Ure Reid FP (b1887 – d1946) Inzevar, 1 Allsop Place, Dollar (formally of East Faerwood and ThornBank, Dollar) and his wife Helen Dawson Wyllie (b1890 – d1979) were invited to attend. George & Helen married in Glasgow in 1913 so the event was actually held exactly 110 years later.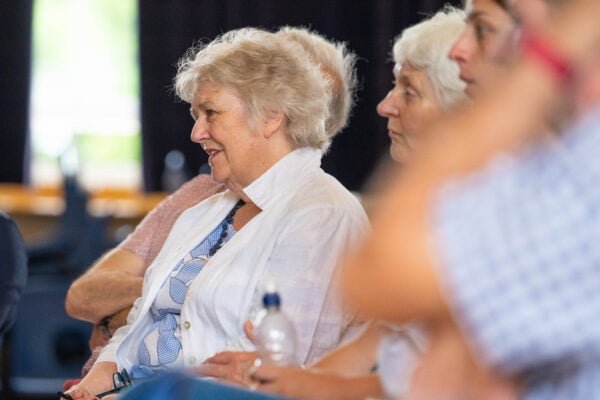 In total we had 30 attendees (including partners of direct descendants) ranging in age from early 70´s to 15 months, or so. People travelled from both ends of the country, from Eastbourne on the south coast to Shetland in the north, and everywhere in between. We even had one branch travelling from South Africa, which was rather appropriate as our Grandmother Helen was born in 1890 in Kimberley, SA, to Glasgow parents. Another branch of the family still maintains ties with India, where our Grandfather George was born in 1887 in Calcutta, also to Glasgow parents.
The Gathering was a full weekend of events, commencing with an Informal Family Buffet on the Friday night, in ´The Grange´ private function suite at The Macdonald Inchyra Hotel, Falkirk where most of the guests were staying.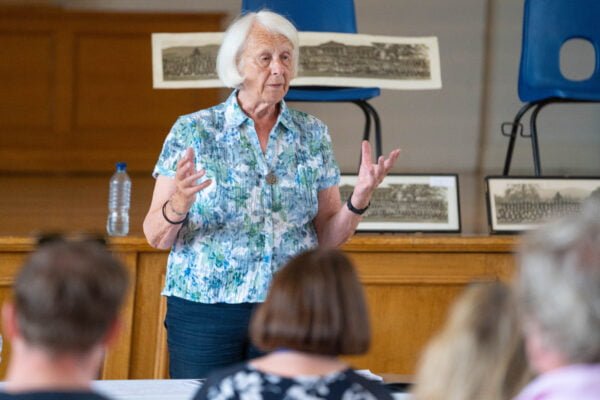 After breakfast on the Saturday we set off for Dollar, where we organised a walking tour of the town which included visiting the family lairs in the Church Graveyard, the 3 former family residences and of course the Academy. After lunch and watching the spectacular School Pipe Band open the Sports Day, we were treated to a very informative and well researched personalised Ure Reid Family School History presentation by the Academy Archivist Janet Carolan, in the Academy Assembly Hall.
Janet Carolan had prepared and printed individual research sheets for each of the FP family members, 10 in total, and produced numerous photos and documentation to illustrate the presentation. In addition, Janet even produced an extra research sheet for our Grandfather George´s step sister, May Macbeth, after she made the family connection.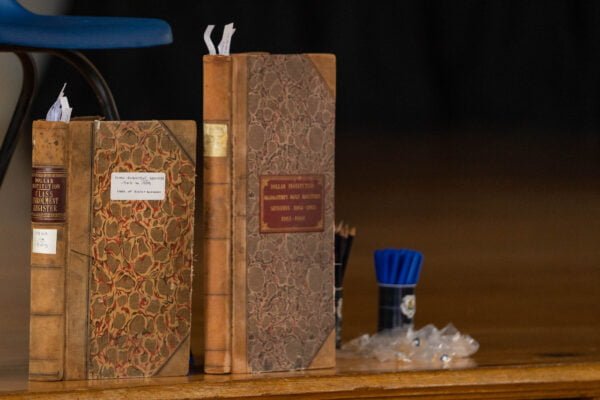 Also attending the presentation were 3 members of a distant branch of the family, related to George Ure Reid through his mother, Elizabeth Maria Macbeth (nee Turnbull) of Thornbank, Dollar, widow of John Ure Reid, senior. The connection was discovered by a  chance encounter, following the funeral of Alister Ure Reid, held in Dollar Parish Church, in 2019.
After Janet´s presentation, many of the attendees then took a tour of the Academy, organised by the Academy FP Registrar, Kirsty Molnar.
After a grand celebratory family dinner at the Inchyra on the Saturday night, complete with Piper and haggis, those family members who didn´t have so far to travel home enjoyed the impressive school Pipe Band Display on the Sunday morning, followed by an excellent lunch at the Muckhart Inn.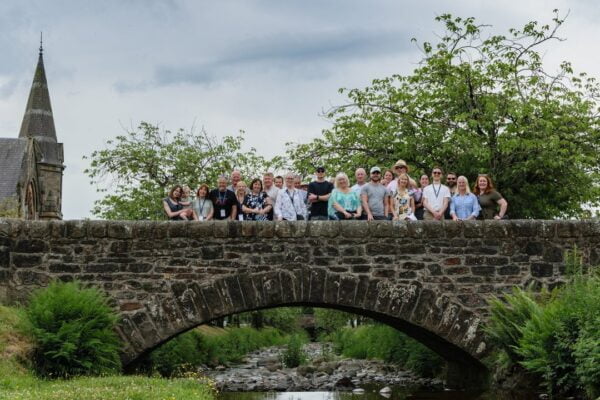 Our grateful thanks go to Kirsty and Janet at the Academy, for hosting such an enjoyable and memorable occassion for our family".
Below lies a list of all of the Ure Reid FP's, for reference.
George Ure Reid (senior)     FP c1900 – 1904
John Ure Reid     FP c1929 – 1931
George Ure Reid    FP c1929 – 1937
Isobel Ure Reid     FP c1929 – 1940
Alexander Ure Reid FP c1930 – 1942
Dougal Ure Reid     FP c1932 – 1944
Hamish Ure Reid     FP c1934 – 1946
Alister Ure Reid     FP c1936 – 1950
Catriona Helen Ure Reid     FP 1981 – 1983 (Form VI)
Fiona Margaret Ure Reid     FP 1981 – 1987 (Form VI)