Staff member: Lynette Pollock
10/10/2019
We are on our way!
Our pupils and staff member, Lynette Pollock, are on their way to Philadelphia to take part in a US Exchange with Tower Hill School for the next two weeks.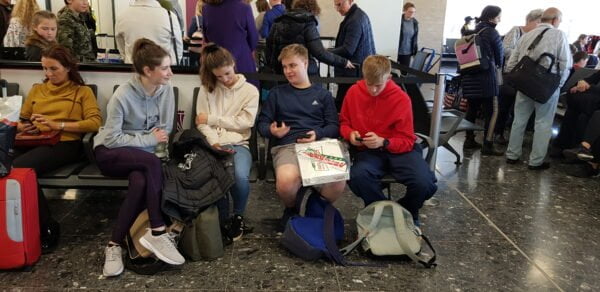 21/10/19
Our First Week!
Pupils Lily and Kate have summed up their first week of the exchange.
The morning after we arrived in Delaware, we set off for New York for the weekend, having had an American style breakfast from Dunkin' Doughnuts. Once we got there we headed straight for a digital light and art show, which was incredible. We then walked all over the city, finding ourselves on Broadway, China Town and the New York High Line. In the evening we went for a carriage ride through Central Park and afterwards went to dinner – which was pizza – in Times Square.
On the Sunday we had an extremely large breakfast at a diner called Friedman's, before spending the rest of the day exploring the city, ending up in Rockefeller Centre, at the top of the Honeycomb building and in the middle of a Hispanic Heritage Parade.
On Monday, it was Columbus Day and so school wasn't on. Instead we went to a local pumpkin farm, where we got lost in a corn maze and chose some of the best pumpkins in the farm. Later we attended a hockey practice with our exchange partners, which lasted two hours in the intense heat!
On Wednesday, the four of us went to Philadelphia for the day and visited the East State Penitentiary, which held Al Capone, and later saw the steps from the film 'Rocky'.
For the rest of the week we went to classes with our partners, and saw some of the differences between Dollar and Tower Hill, while also watching some of the sports games throughout the week, like hockey and an intense volleyball game, which we won.
We went to another school called St Andrews on Saturday to watch the varsity and junior varsity hockey games and a football game, where we learnt that seven minutes is a lot longer than you would think.
We had a chilled-out day on Sunday, where we went shopping at a huge mall and had lunch at a nearby Shake Shack.
This week we have been going to more classes, learning more about American culture and experiencing some of the colder weather here in Wilmington.