Staff members: Mr MacDermot, Mr Muirhead, Mrs Kelly, Mrs Brown.
8/10/19
The city that never sleeps
They say that New York is the 'city that never sleeps' and so it proved to be after we concluded our first day with a walk through the night-time neon and bustle of Times Square, culminating in stunning rooftop views of the city from the magnificent Art Deco Empire State Building in its full lit up splendour.
The same phrase could be said of our pupils after their 4.30am meeting time and 9 hours of travel. Considering the five-hour time difference, our group would experience a 23-hour non-stop day, yet no one was caring as our enthusiastic and knowledgeable tour guide Lyn brought to life the city's history as we journeyed into Manhattan by coach from Newark Airport in New Jersey.
Soon, our pupils' enthusiasm matched that of Lyn, and then some, as we disembarked at Pennsylvania Hotel with Macy's, Madison Square Gardens and The Empire State Building as our illustrious neighbours.
After a brief refresh we were back out for dinner at Planet Hollywood before grabbing that rooftop view. Barely half a day and much seen and talked about with memories already to savour. Tomorrow can't come soon enough.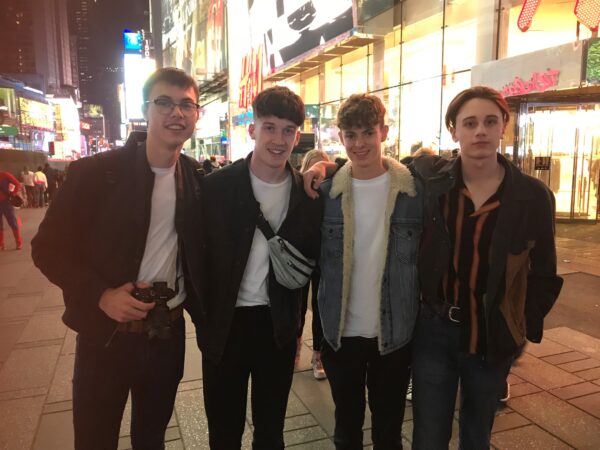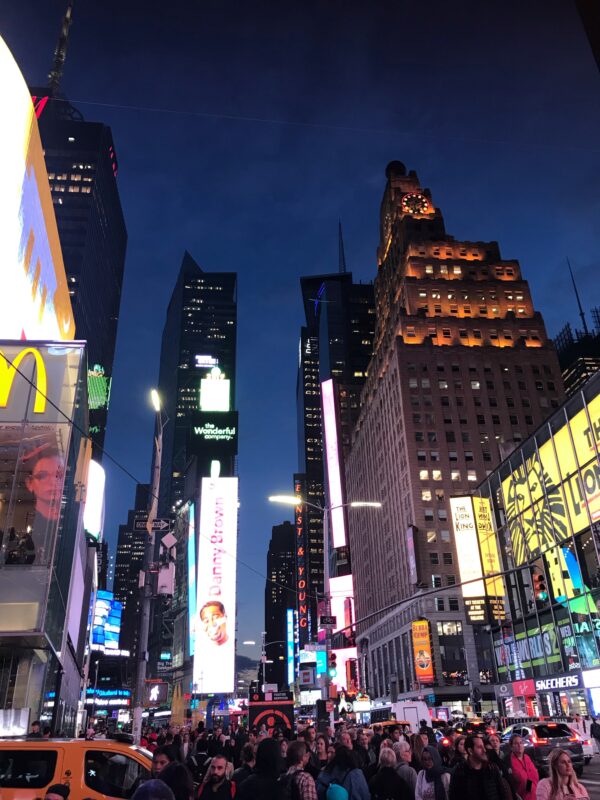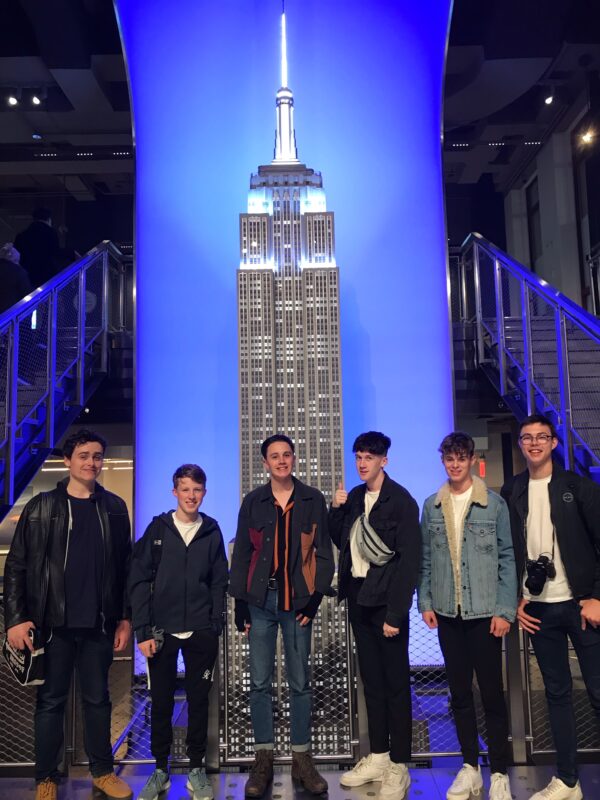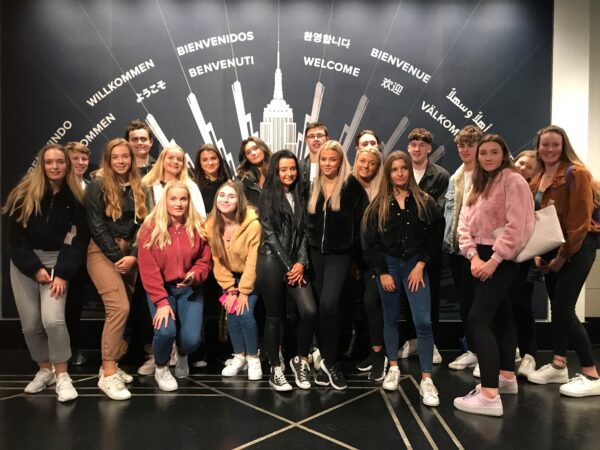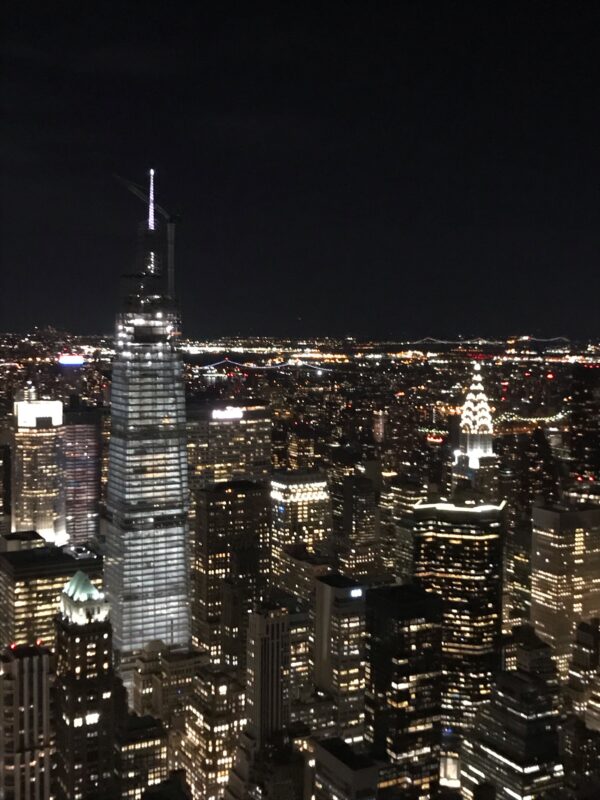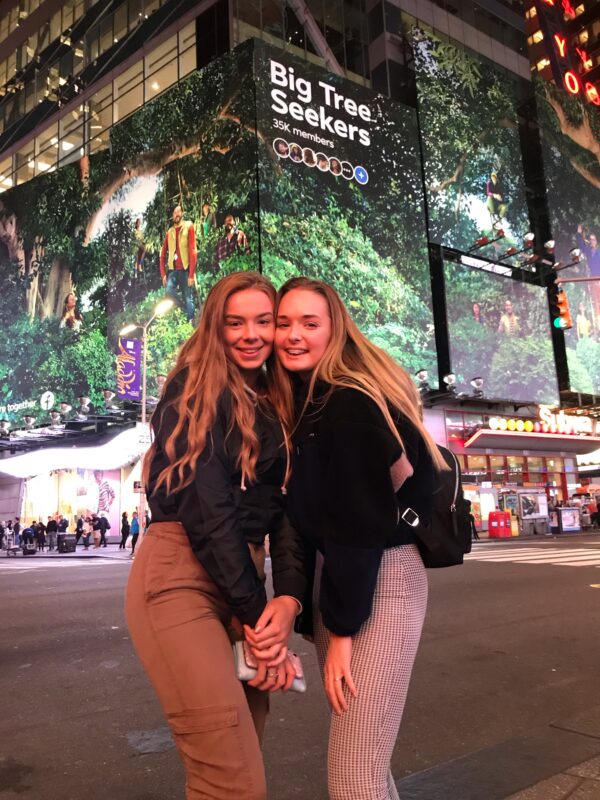 9/10/2019
Another bite out of the Big Apple
Despite the heavy rain for much of the day, the group's spirit was in no way dampened as we set off on our walking tour led by our guide Lyn through Times Square and to Central Park to our final destination; Frank Lloyd Wright's world-famous modernist Guggenheim Museum. Here, we split into two groups, each led by a museum guide who brought to life the influences and design rationale behind Wright's masterpiece, before leading the pupils in an excellent discussion group on key works by artists such as Francis Bacon, Pablo Picasso and Wassily Kandinsky.
One of the groups was even given access to the new exhibition of work by controversial artist Jean-Michel Basquiat. His neo-expressionist artworks, created in the 1980s but which resonated strongly due to their commentary on the very current issues of social and political unrest, inequality and injustice. His work divided opinion amongst the pupils but it provided insightful discussion and learning, drawing on the canvas that it provided for debate.
After an opportunity for the pupils to explore the gallery for themselves we headed back to the hotel for dinner and then out in the evening to see the Broadway theatre show 'Stomp' which enthralled with its excellent blend of percussion music that uses the body and everyday objects, combined with dance, humour and slick choreography to create a really excellent theatre experience that the pupils enjoyed a lot.
By the end, some sleep was top of the agenda as we headed back to our hotel after a full day, having clocked up around 11 miles of walking, and another bite out of The Big Apple.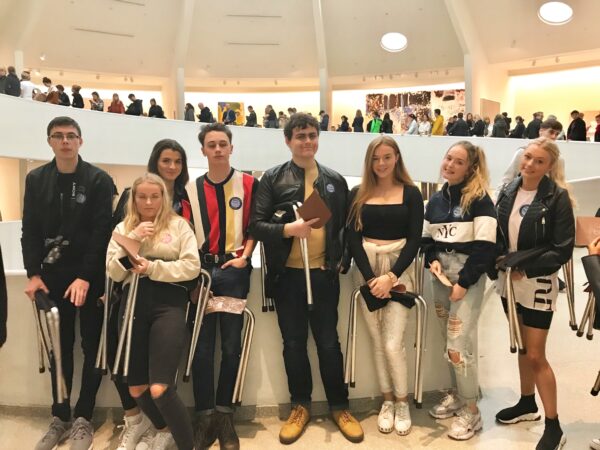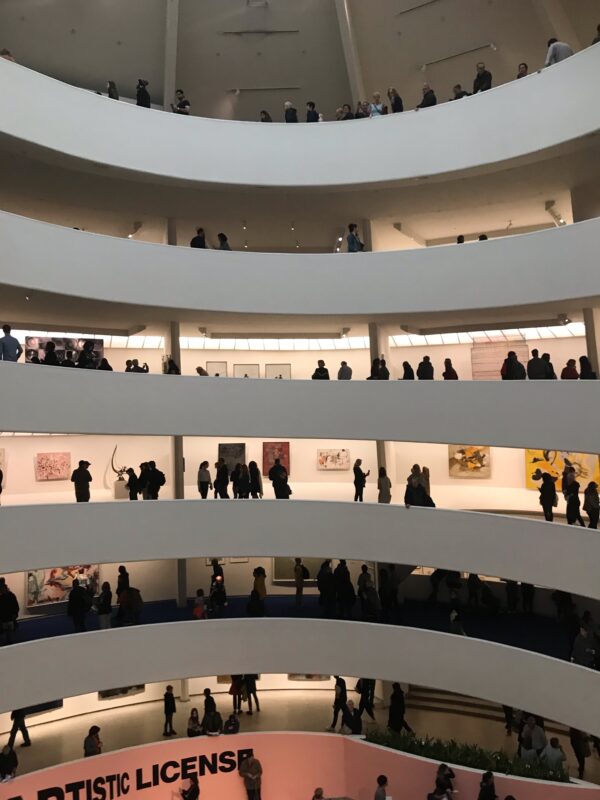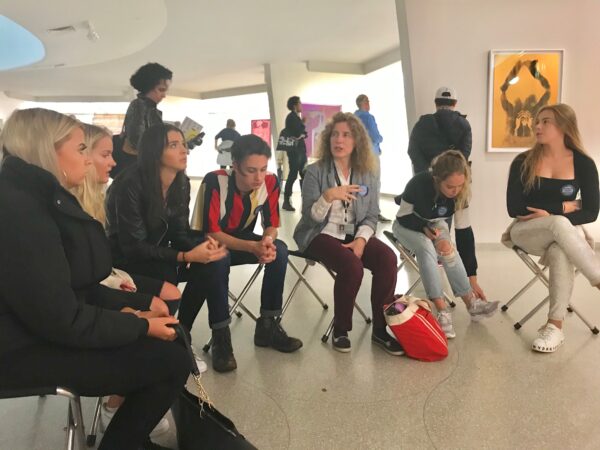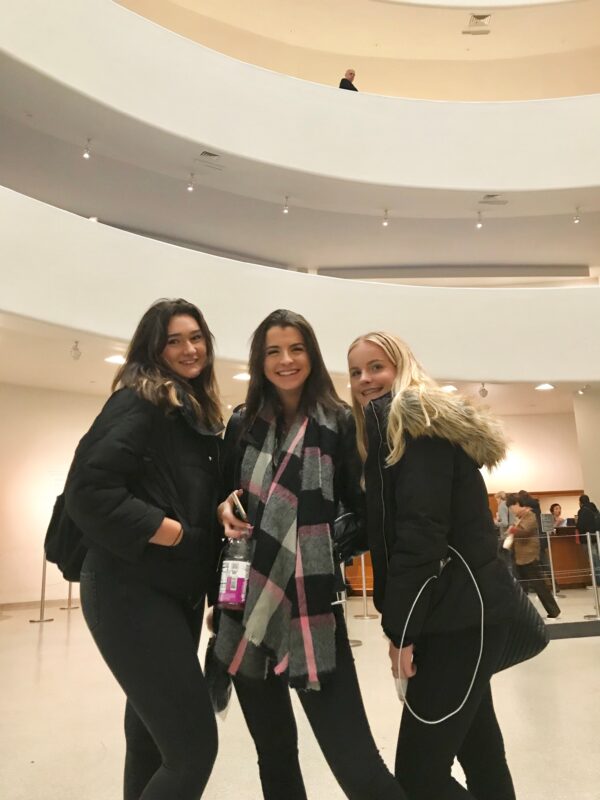 10/10/2019
A sunny day in New York
A New York bathed in sunshine greeted us this morning as we walked from our hotel to the hugely impressive Art Deco Grand Central Station and a chance to get some architectural sketching underway.
Our next stop was the much-anticipated Microsoft tour and gaming workshop. Here, we were led by the hugely personable Cuame and Daniel, two of the company's gaming ambassadors, who took us through the latest products and trends that are being currently developed; interactive digital whiteboards for corporate meetings and educational purposes through to the latest Virtual Reality headsets that can be motion-controlled and which are being configured for future home and classroom use. Over seven floors, this is Microsoft's ultimate flagship store and is a gamer's paradise. An IMAX cinema allows games to be played and tested by employees during their lunch break and provided an impressive visual experience. As if the 2.5-hour tour had not been impressive enough, our two hosts handed out some well-received freebies to the group; a lovely touch to round off a very impressive visitor experience.
Lunch and shopping on Fifth Avenue were a must; pupils seizing the chance to visit Rockefeller Plaza and a host of window-dressed flagship fashion stores to spend some dollars and take in New York at its glitziest.
Late afternoon was spent at the Fashion Institute of Technology, where iconic designs were seen and sketched, and discussion had amongst pupils and staff over the success or otherwise some of the creations.
Our day drew to a close with a visit by subway to Chinatown for our meal and another opportunity to see a very different part of the city. Some free-time en route was a pleasing end to the day for the group with no complaints of heading to bed after another packed day of activities. Music to a teacher's ears.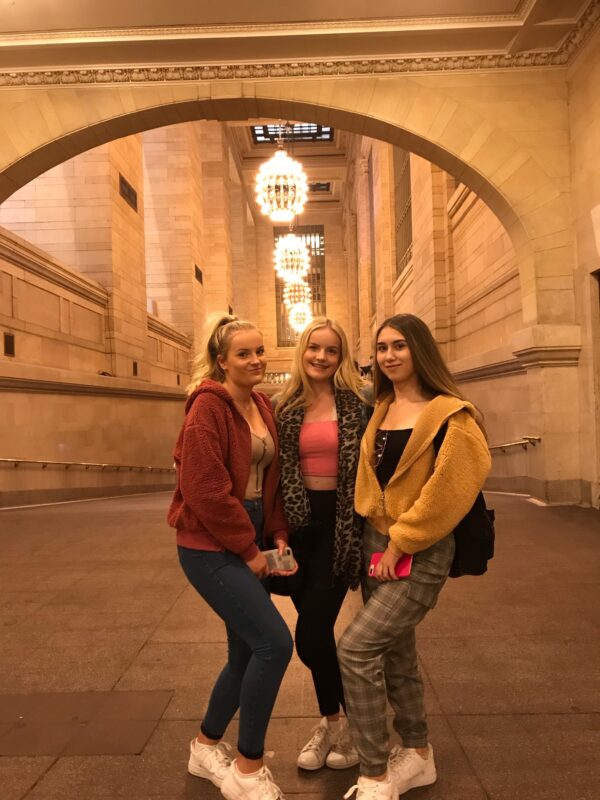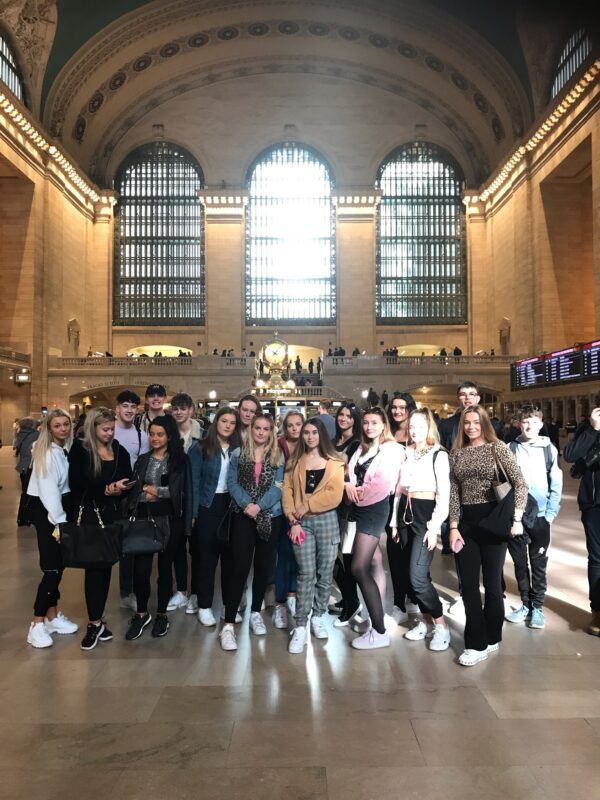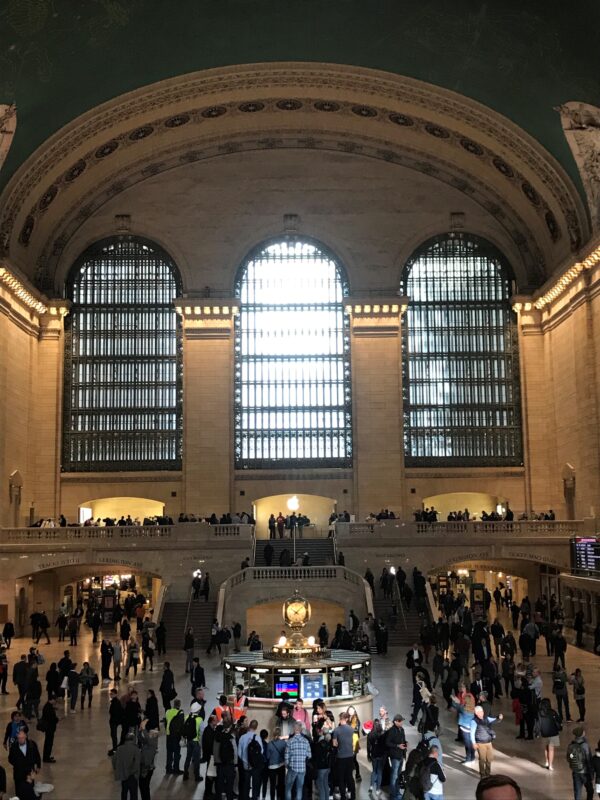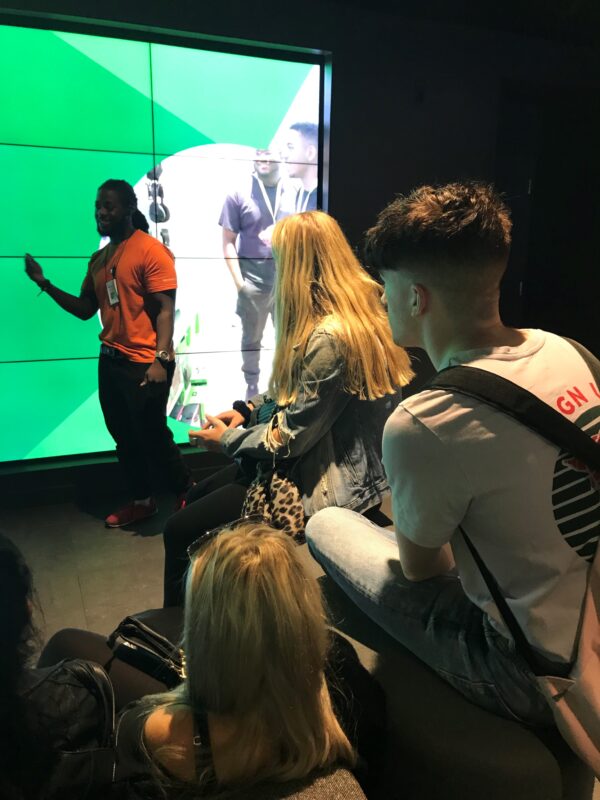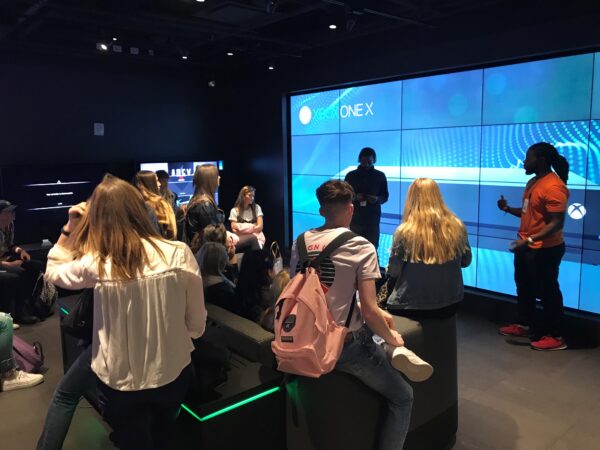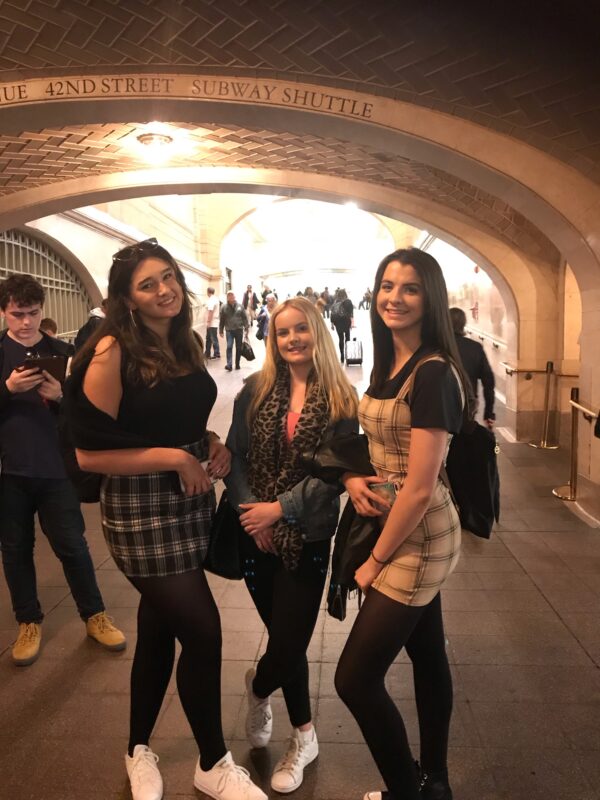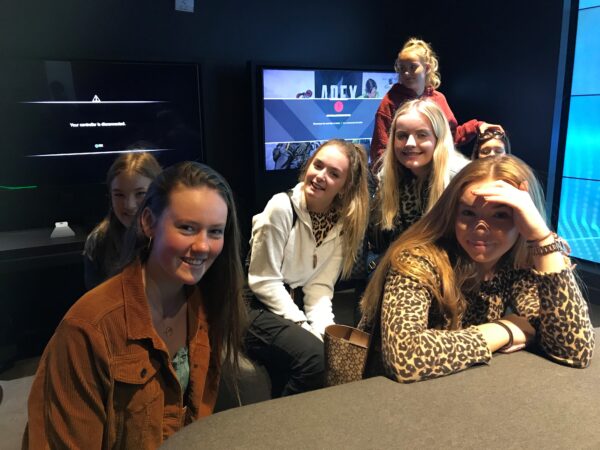 11/10/19
Smiles, Some Miles and Architectural Styles
First stop this morning was a bit of retail therapy at Chelsea Market, located in New York's increasing desirable Meatpacking District. Pupils were again able to see how innovative interior design solutions could be used to create a forward-thinking and eye-catching retail space that hosted bespoke fashion, craft, and product design shops which the group really warmed to.
On walking from Chelsea Market to Downtown Manhattan, we also were able to see Thomas Heatherwick's ultra-modern architectural vision for New York; a raised island greenspace protruding onto the Hudson River and which is set to be a very popular recreation space for residents and tourists alike on its completion.
Thoughts turned to a more sombre mood as we reached the Ground Zero site which has been turned into a fitting memorial to the many lives lost in the September 11 attacks of 2001. Here, the group took time to explore the work of several architects with some excellent discussion had on how art and design can be used as a hugely significant tool to affect peoples' lives for good. Michael Arad's now-iconic World Trade Centre Memorial was universally agreed to be a stunning success in communicating both loss and memory, whilst pupils also appreciated the Daniel Libeskind's optimistic master plan for the regeneration of the area, epitomised by the soaring Freedom Tower which now stands as the 7th tallest building in the world. A lot less tall, but striking in its originality, is Santiago Calatrava's subway station building which was visited by pupils during their free time and which drew an highly impressive response from all.
Our afternoon concluded with views and vistas as we saw Manhattan from afar, firstly aboard the Staten Island ferry which allowed us a closer look at the Statue of Liberty, and then from across the iconic Brooklyn Bridge, as we racked up the walking miles.
A rest was definitely needed, and so pupils took full advantage of their free time with some eating and shopping around 7th Avenue before a well-deserved evening at the cinema.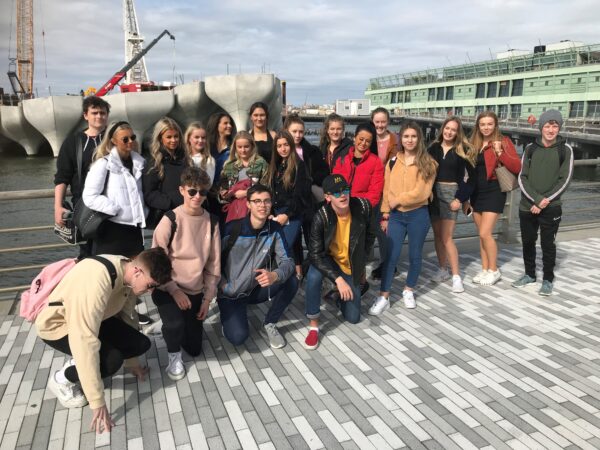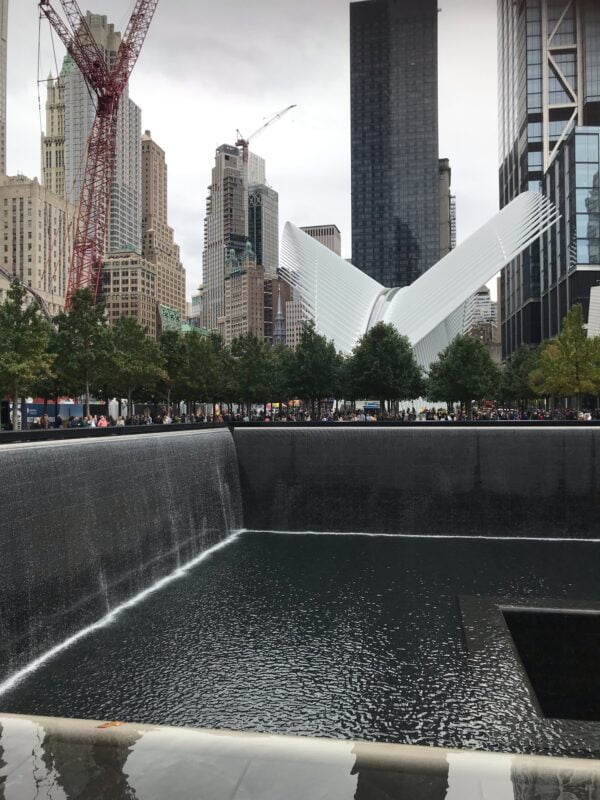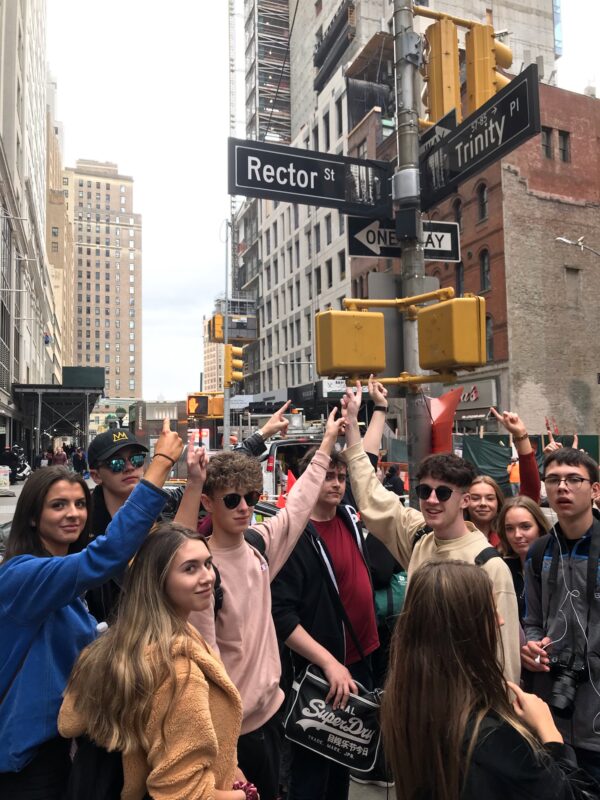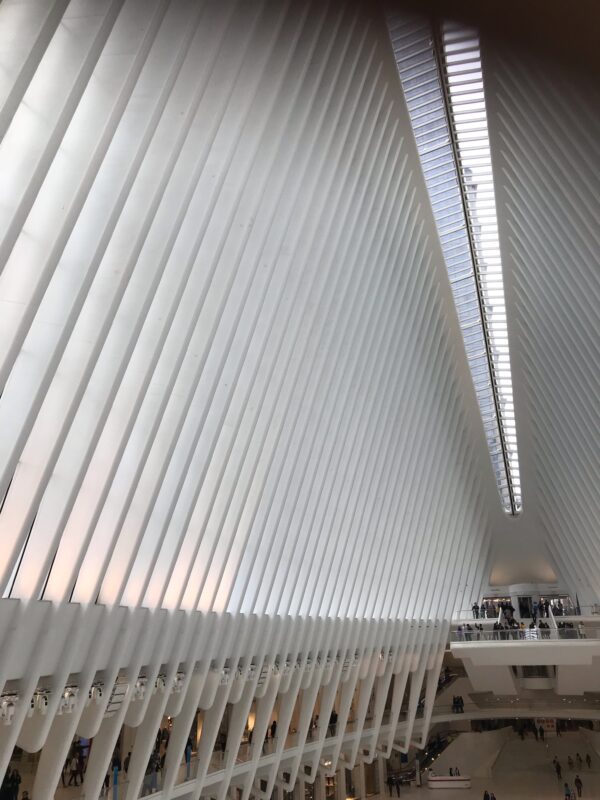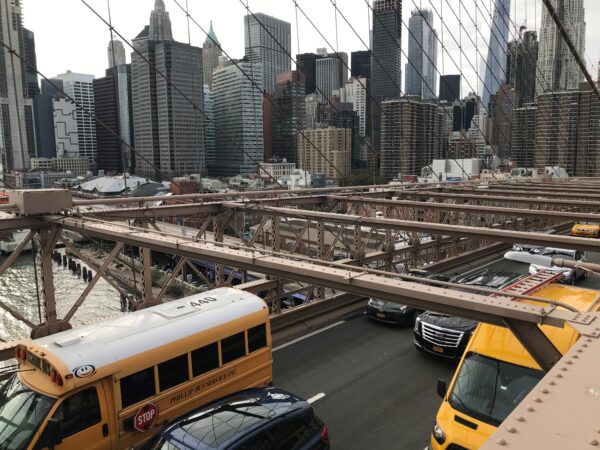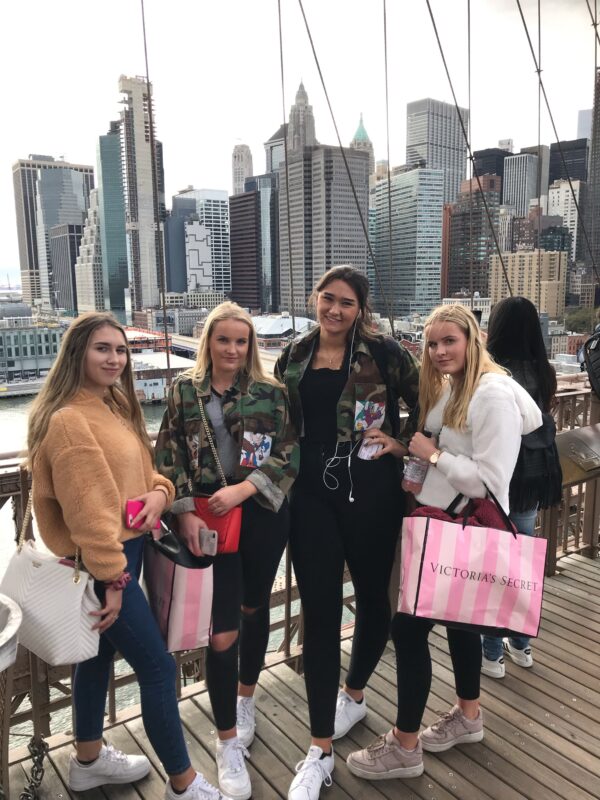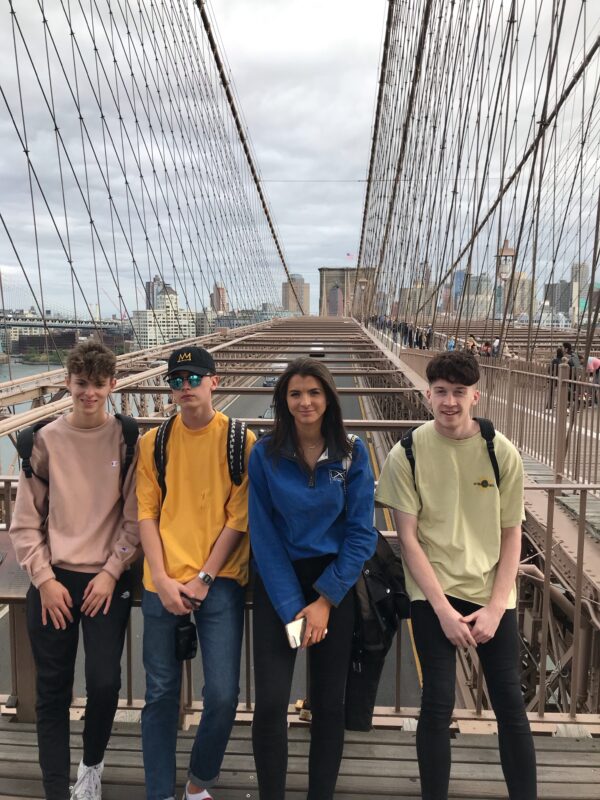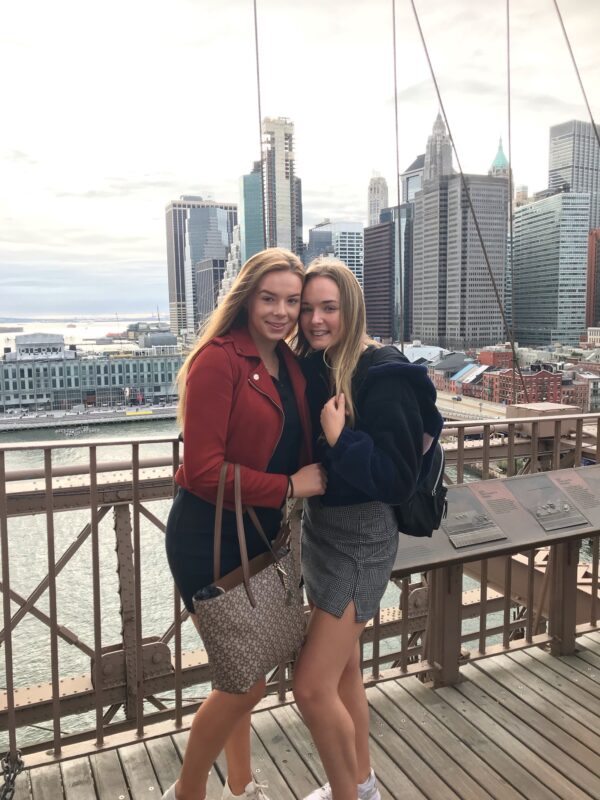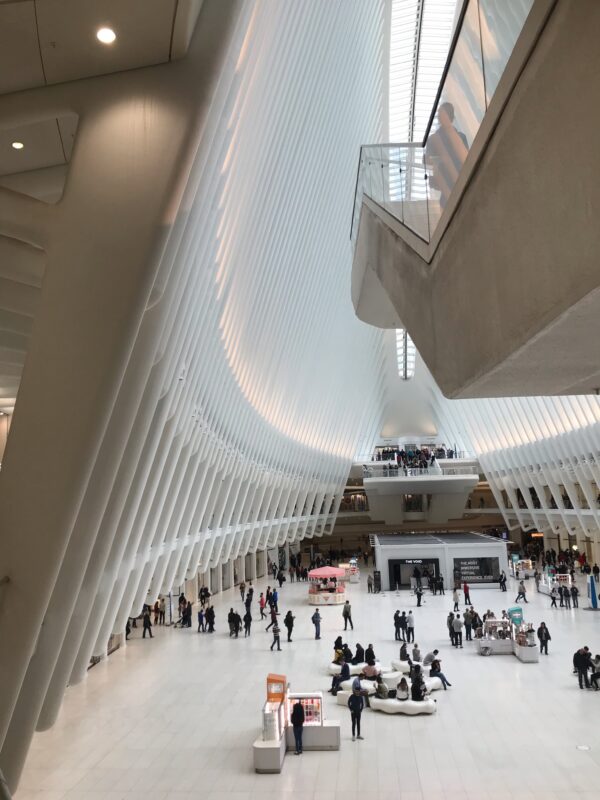 12/10/19
One Night at the Museum
Saturday in New York was book-ended by visits to two very different museums; our day finishing with a guided tour of the world-renowned Metropolitan Museum of Art – or The Met as it's more commonly known. It's a huge space that is home to a vast collection of sculptures, jewellery, paintings, armour and many other antiquities from ancient civilisations such as the Egyptian, Etruscan, Asian, and Islamic worlds as well as an impressive sculpture court containing Greek and Roman artworks. Aza, our tour guide, drew us to key works which prompted questions and discussion amongst the pupils before we headed towards the gallery of European Art; a treasure trove of works by Impressionist and post-Impressionist painters such as Claude Monet, Georges Seurat, Paul Signac, and Paul Gauguin.
The morning was taken up with a trip through Central Park to the CooperHewitt Smithsonian Design Museum, whose interactive displays wowed our group and provided a superb learning experience for the pupils. A contrast to The Met in terms of its compact size, this museum serves to highlight the importance of design both past, present and future; particularly when allied with science and engineering.
The afternoon enabled our pupils to hunt down those last remaining souvenirs and presents as well as treat themselves to some lunch of their choosing in and around the hotel district. Once again, there had been plenty to see and do and everyone was ready for some shut-eye by 10.30. They'll need it, as we have a long day ahead of us tomorrow as we start our journey back to Scotland late afternoon. It's all just gone too fast.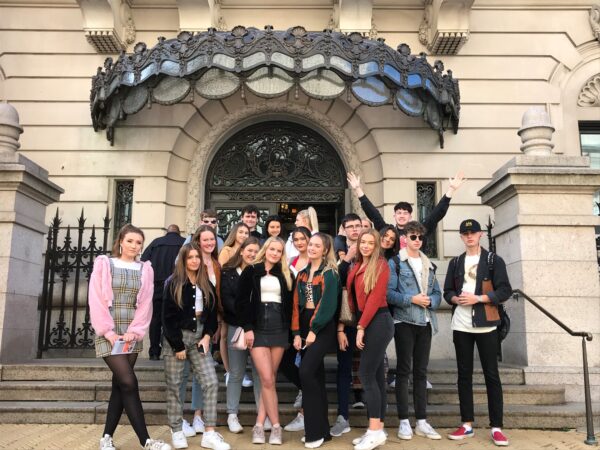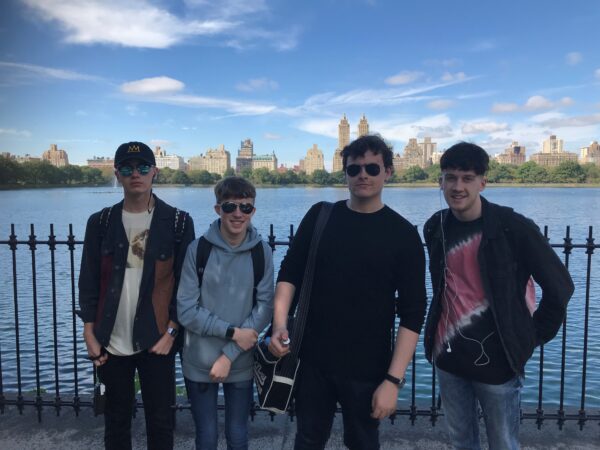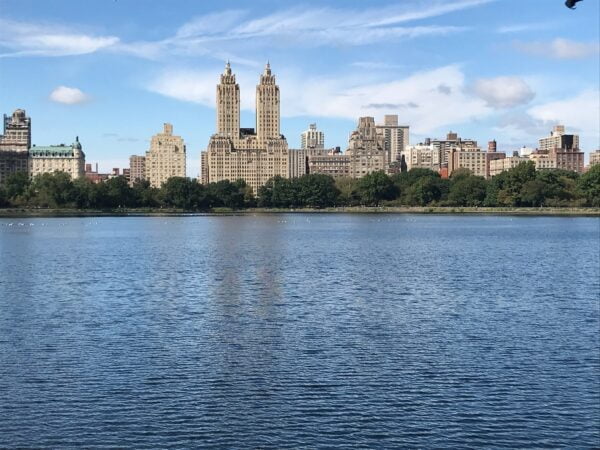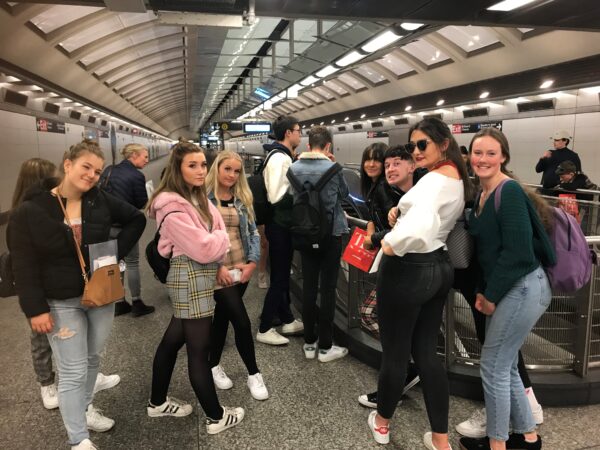 13/10/19
Last Bite of The Apple
Sunday was our last day in New York and everyone agreed that the week had completely flown by, such was the amount we had packed into our trip.
For our final day of touring we headed to the Hudson Yards – the must-see downtown area of New York that has undergone a multi-billion-dollar regeneration to create an incredible residential and retail space hat simply wows visitors. The jewel in its architectural crown is Thomas Heatherwick's Hudson Staircase; a distinctive honeycomb structure that is an artwork, sculpture, and viewing platform all in one creation, wrapped in an eye-catching metallic copper-rose colour. Pupils learnt about how design, architecture and creative urban planning can greatly impact an urban environment and how design in its many forms is a hugely important skill.
This was further seen in our walk from the Hudson Yards on the High Line, a converted above-street-level railroad that is now a spectacular walkway and public space. A combination of landscape architecture and urban planning, the unique design allows inhabitants to experience an elevated walk through Manhattan's West Side.
By now it was time to return to the hotel and begin our journey home. Some free time allowed our pupils to do some final shopping and then it was on to JFK International Airport for our flight home after a jam-packed inspirational week in this city that can lay claim to being the art and design capital of the world; truly, 'the city that never sleeps'.