Staff members: Mrs Caine and Miss McGookin
14 Form V pupils, along with staff members Mrs Caine and Miss McGookin, will travel to Romania to help run a summer school for children and adults with special needs, based in the grounds of Little John's House.
The volunteers will organise face painting, dancing, bracelet making and many other activities – all with the purpose of helping to create a positive experience for the children and young adults who attend the school.
Follow this blog to see what they get up to on their trip.
14/07/19
We have arrived!
Written by Riona
Once we arrived in Munich after flying from Glasgow, we had a long stopover to look around. The LGBT pride parade had begun in the centre which made it a great atmosphere to arrive into. Once we had a look around at shops and stalls, we headed to Berni's for dinner – the food was insane. After the meal, we went back into Munich airport and set off to Sibiu. It was an extremely late arrival but the excitement had began as soon as we touched down. The bus journey to Little John's was only a short one, and when we arrived we were introduced to Beth who told us some quick rules before we headed off to bed. After a later breakfast, we were challenged with the task of making up a dance to show the children. We practiced this hard and perfected it, and we even sacrificed getting drenched in the rain for space to do our 'leap frog'. We sat down for dinner and had a great feast made by Little John's cooks – it was amazing! ? The boys painted the bathroom walls whilst we drew some Disney characters to decorate them with.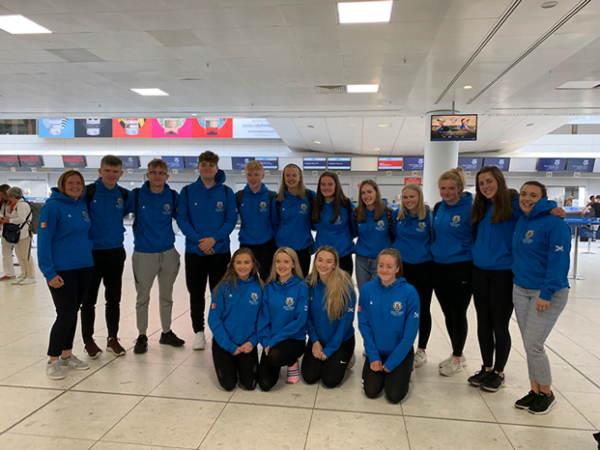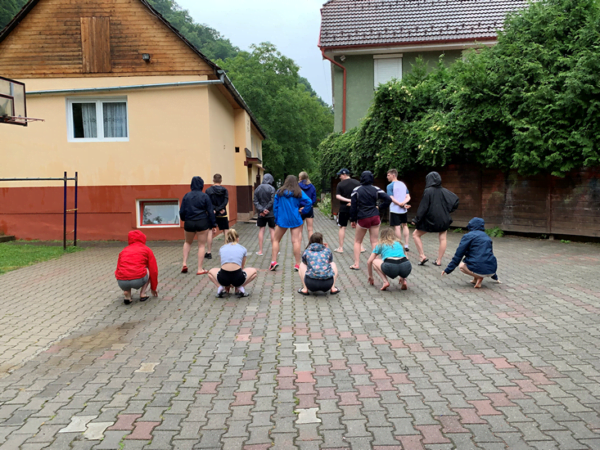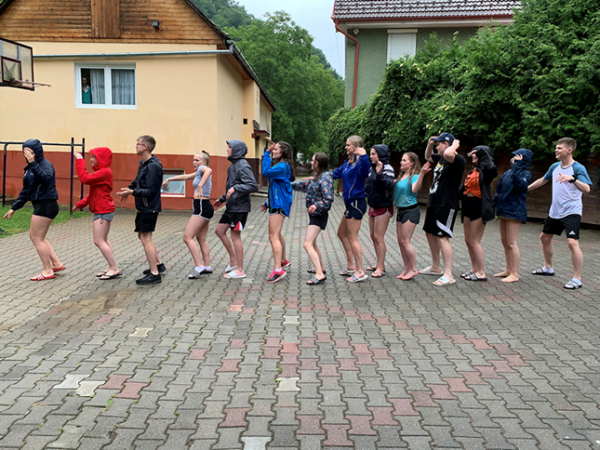 15/07/19
Birthday, bracelets and an Escape Room!
Written by Elliot
On Monday we woke up early to have breakfast, far earlier than the day before, and you could definitely see it on some of our faces! Since it was my birthday, the rest of the group very kindly surprised me with balloons and cheer. We then prepared for the first day of summer school. There were only a few people who came out with the residency which made it easy to get to know them and spend quality time with them. We made t-shirts, bracelets, hama beads and drawings for the people who came to the summer school and they were all delighted with their new accessories. Later in the day we had 'Circle Time' which got everyone dancing along to the music, and gave us all a much needed break! We then continued to play with the visitors, finishing off their artwork before they departed with smiles on their faces.
Later in the afternoon, we went out to an escape room in Sibiu. We were spilt into two groups and were given an hour to try and uncover clues in order to escape. We found this extremely difficult however one of the groups managed to complete the challenge with seconds to spare. Their excitement poured out onto the rest of us however by the end, we were exhausted and ready to head back to Little John's House.
Once we arrived back, we prepared for dinner. Unfortunately the weather wasn't great so we had dinner indoors. The main meal was delicious and for dessert I was surprised by being given a personalised Romanian cake, which everyone enjoyed, and was a nice touch. Finally, before bedtime, we had a small disco with a speaker and disco lights which was a perfect end to a fun and interesting day.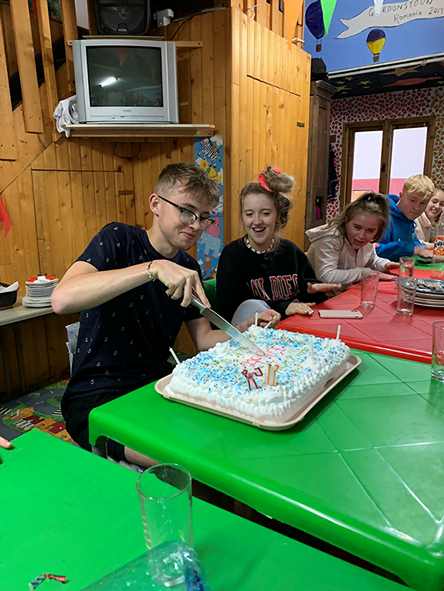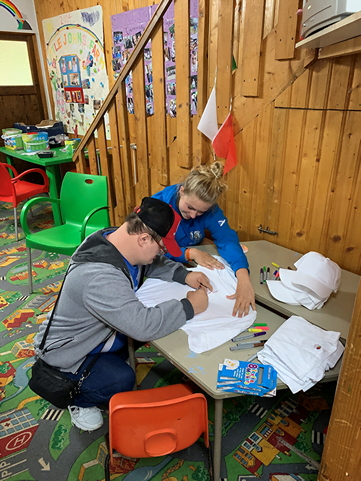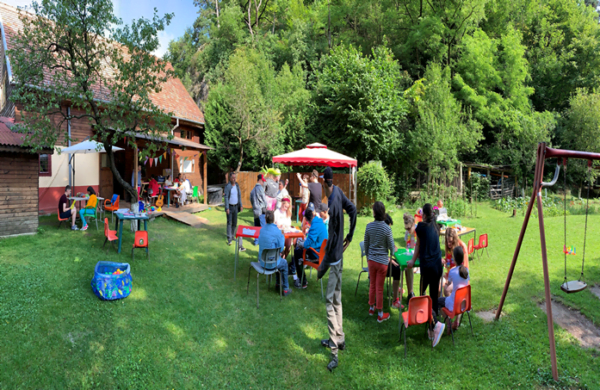 16/07/19
A successful and sunny summer school.
Written by Olivia
By Tuesday the sun had started to shine on Little John's, which allowed us to have summer school outside. More children came from local areas and orphanages meaning that it was busier and a lot harder to give each person as much attention. Despite this, we managed it – finishing the afternoon covered in face paint and glitter – a clear sign of a successful summer school. At this point we were all in desperate need of a bucket wash as most of us hadn't had a shower in four days! So we made sure we had collected enough water from the well to clean us, had a wash and a quick sunbathe before we head off for Sibiu.
Once we had arrived we were told the rules of our treasure hunt: we were to guide ourselves through Sibiu to the places on a sheet we were given, whilst answering questions and giving proof we were there. At one of the places we visited we had to sing the Dollar anthem whilst flossing and at another we had to act out a scene from Dracula which must've been very entertaining for the locals (some even videoed one of the groups!). To finish the day we had a lovely meal on Sibiu's main square, which was still buzzing with life when we left. When we arrived back to Little John's we were all so exhausted that we went straight to bed, which was the first and definitely not the last time this will happen.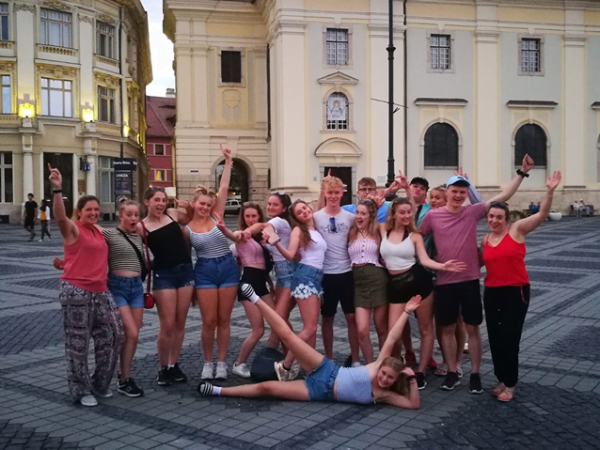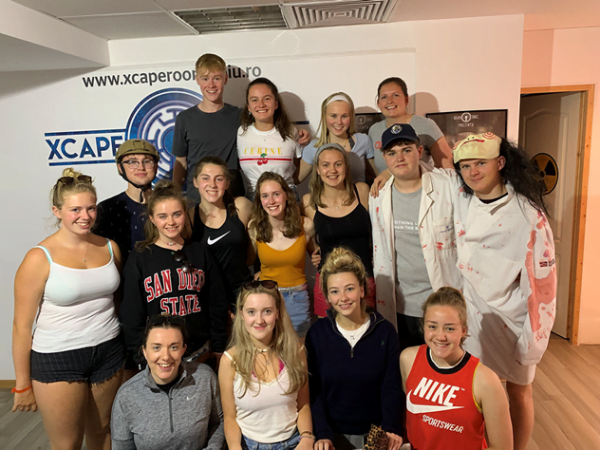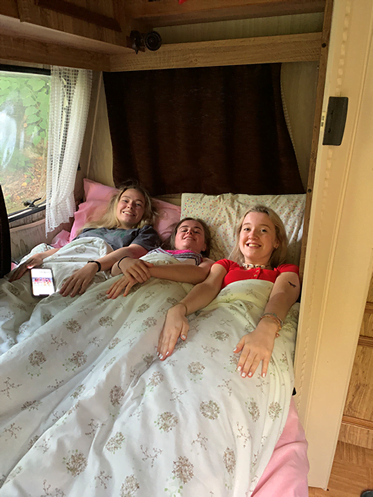 17/07/19
A trip to the salt lakes.
Written by Ruaridh
Wednesday morning brought more sunshine and even more kids, as another bus arrived from the emergency unit. We needed to work hard due to the new arrivals, however we still ran a successful summer school, packed with fun games of basketball, full body face paints, enthusiastic dance moves (mostly from myself) along with lots of bracelet and t- shirt making, which could be seen by the mess at the end!
The team were keen and eager to tidy up and have lunch, as we had some exciting news… we were heading to the salt lakes to enjoy the vitamin rich mud followed by a hot shower!
After a short transfer, we arrived at the salt lakes and we dived straight in, coating ourselves completely in the mud. It smelled awful, however after four days without a shower or washing we probably smelled worse! The pools of water were nice and warm as they had been soaking up the heat from the sun all day. We left the lake completely covered in the mud to allow its richness to soak into our skin as we dried in the hot sun. As it was a hot day, the mud dried in no time and we went straight back in the pool to wash it off. Next came the showers! We cleaned ourselves up, and then grabbed an ice cream to cool down as we relaxed in the sun – before heading back to Little John's for yet another amazing meal.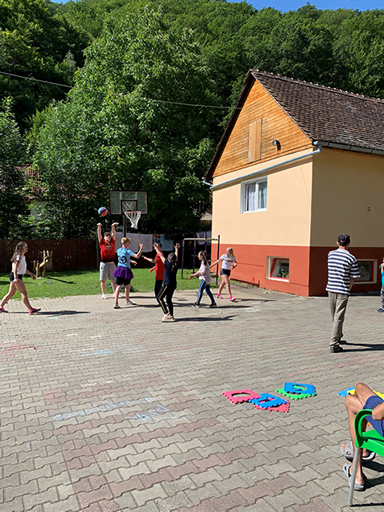 18/07/19
Another busy day!
Written by Corina
Thursday morning started off bright and sunny. The buses continued to arrive, so Little John's became busier and full of fun. There was plenty of people running around and there was not a moment which was not filled with excitement and laughter. In the front courtyard, basketball became the main event to watch. With the competition reaching an all-time high, everyone joined in.
In the playroom – which could be classed as the calmest area of summer school – arts and crafts were taking place and the dressing-up cupboard had exploded all over the floor! The back of the garden was packed full with fun and games on the trampoline and lots and lots of face painting, which allowed everyone to embrace their inner artist. There was also plenty of drawing and colouring going on.
After a fun-filled day of madness, activities and non-stop laughter, the afternoon was our time to get clean, relax and pack for our enjoyable weekend in Brasov. Bucket washes were required especially due to the heat we had experienced that day. After we were all clean, we lay in the sun and chilled out to prepare for our last day of the first week of summer school at Little John's House and looked forward to an exciting weekend ahead.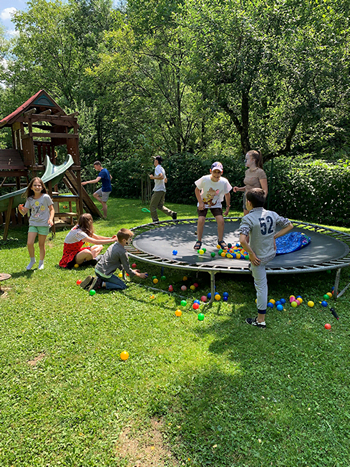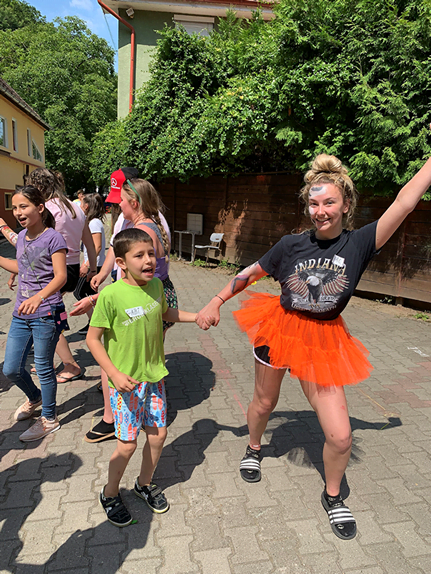 19/07/19
The end of our first week.
Written by Alex
Friday morning brought this week's final day of summer school. The beautiful weather – along with the excitement on the children's faces – helped create an amazing atmosphere for the finale of the week. The welcoming team put a grin on everyone's faces with their extravagant outfits and the courtyard was filled with plenty of willing ballers trying to improve their basketball and table tennis abilities. The playroom and garden was packed with lots of happy children painting faces and making bracelets. The end of summer school brought plenty of tears but also plenty of hugs goodbye and we were excited to get our mini-break to Brasov.
We set up and packed away lunch quickly in order to leave plenty of time to get ready for our 3 hour journey to Brasov. We all crammed ourselves into the two mini-vans and set on our way. After a quick 5 minute stop at a petrol station and lots of music later, we finally arrived at the Hotel Belvedere in Brasov. We went into our rooms and got a great chance to get some pictures of the lovely scenery. Without any hesitation we all gathered in the hotel swimming pool and did a rendition of our own choreographed routine. After many belly-flops and pencil dives later we all went up to Corina and Amy's room in our bathrobes and dived into our Chinese take-away. Soon after we had demolished plenty of spring rolls and noodles, we collectively decided to drag ourselves to sleep after a very tiring but enjoyable start to the weekend.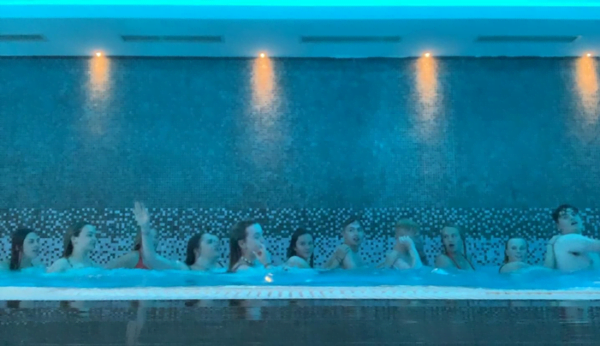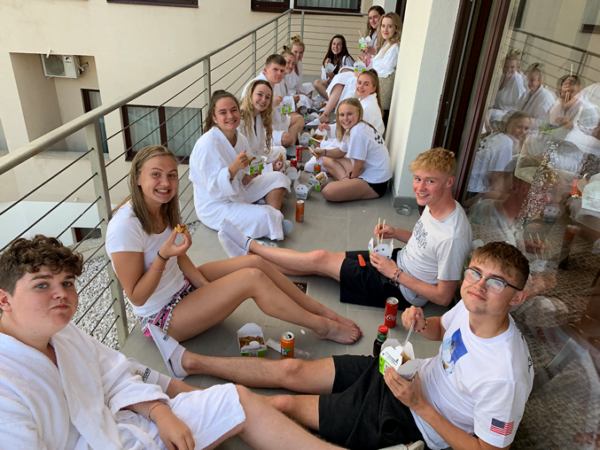 20/07/19
A weekend in Brasov.
Written by Lucy and Duncan
Refreshed from a long lie in and the first breakfast we did not have to make ourselves, we headed straight for the waterpark on Saturday morning. Although we missed Little John's, the buzz of a different city was a welcome change. The highlight of the waterpark was certainly the outdoor pool Zumba session that we initially joined and then ended up leading! This was topped only by the boxes of miniature doughnuts we were treated to after this 'strenuous' workout. A few hot tub visits later and we were then ready to head into the centre of Brasov for our lunch. However, this break was short lived as we were then led towards the cable cars that would carry us up to the Hollywood-style Brasov sign in the hills.
With the sun beating down, the views overlooking the city were unparalleled, but we were relieved to get back into the shade of the cable car. Following this, we then returned to the hotel to freshen up before our evening meal. Having walked down to the restaurant we had certainly worked up an appetite and were fully prepared for the pizzas and burgers that awaited us. Both the food and atmosphere were brilliant, and it was the perfect way to end our first day in Brasov.
After another fulfilling breakfast on Sunday morning, we waved goodbye to Brasov and began the journey back to Little John's. However, this journey was not without its fair share of stops along the way. Firstly, we paid a visit to a bear sanctuary 'Libearty', south of Brasov where were told about the horrific treatment of bears working in Romania's circuses and the efforts of the sanctuary in giving these bears a much more natural habitat. We were taken on a tour and were able to see the impact of the sanctuary on these bears first hand. Our next stop on the way home was Bran, home of Dracula himself. Here, we explored the markets, enjoyed some street food and some even visited Bran Castle. The town was bustling with stalls and a haunted house; a nice change from sitting on the minibuses. We then made it back to Little John's where a delicious dinner was waiting for us before we began choreographing our dance routine for the next week – a standard procedure for us now at Little John's House. ?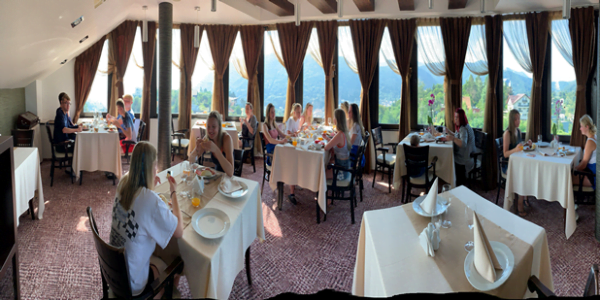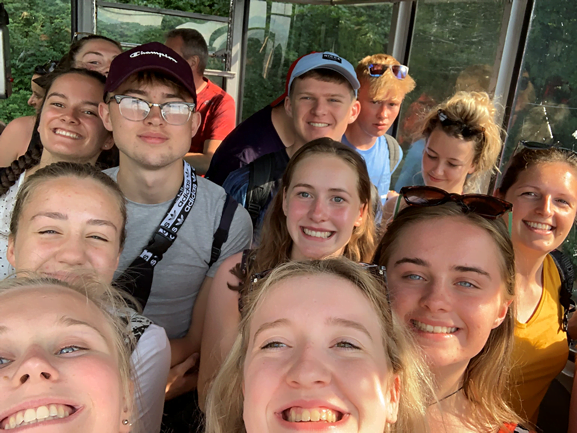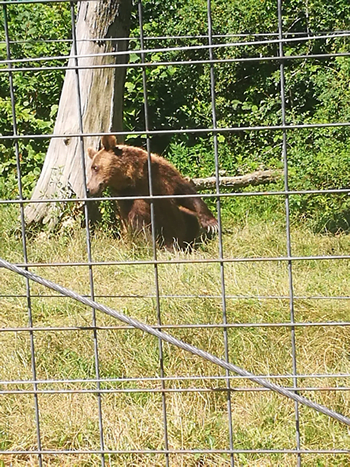 22/07/19
Back to Little John's House.
Written by Ellen
After what felt like a week away, we were back at Little John's setting up the summer school once again. It was safe to say that it was a very quiet half hour at breakfast as everyone was still recovering from our action-packed weekend! Even if we were half asleep, Monday morning meant a new set of people to greet so we got on with our tasks squeezing in one last circle time rehearsal before the kids arrived.
First to arrive was some of the previous visitors from Esperanza, much to the delight of the group as we got to spend another week with them and their infectious smiles and laughter. We also had two new buses but we quickly adapted to the varying needs of all the visitors and there was a lot of running about in the heat.
In addition, the new week came with the debut of our new dance that we performed at circle time. The live performance of Don't Stop Me Now was complete with superhero masks and capes which made it even more entertaining and we quickly had people from the audience joining in.
After tidying up the summer school we were relived to welcome a relaxing afternoon, playing cards and watching the storm. The storm brought huge hailstones and the temperature dropped, this was a considerable change to the 35 degree heat we had experienced yesterday. Following the storm we quickly cleaned up the courtyard and garden, using some Harry Potter style brooms and a small team continued to paint the new murals in the bathrooms. Dinner in the evening was spent listening to the adventures and stories of all the people that some of our group had met earlier in the day, during a trip to the mountains to collect fresh water.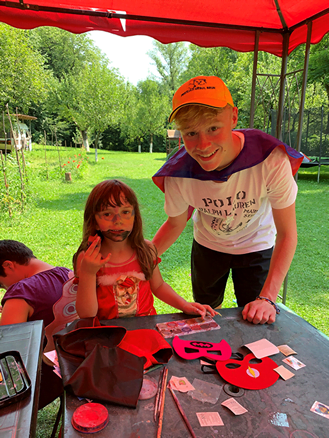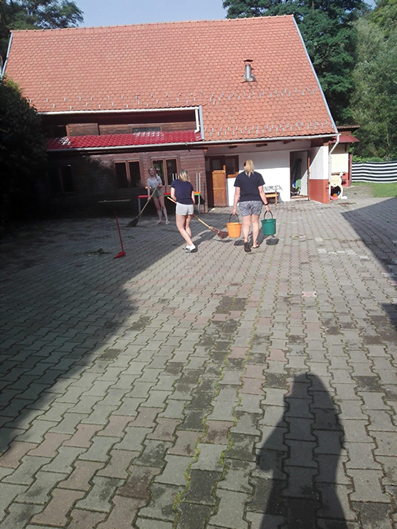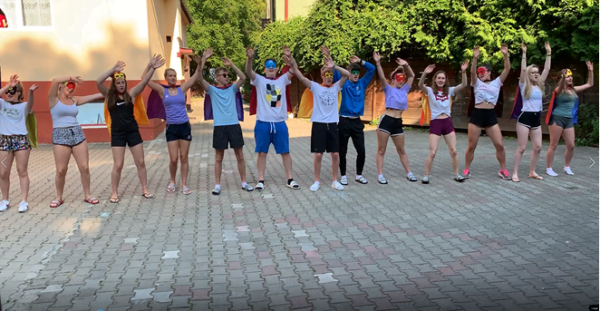 23/07/19
Visiting Sibiu shopping centre.
Written by Lorna
Tuesday was one of the busiest days of the summer schools as four buses showed up packed with excited kids of all different needs. Some needed more attention than others, like Emi who is quite a character! One approach didn't apply for everyone so learning how to adapt to the different personalities and disabilities was challenging but rewarding.
After buying lots of new toys for the house, we enjoyed the new activities that were now on offer, for example paddling pools and blow up football goals. When the kids left we all took a well-deserved nap before heading out to the Sibiu shopping centre to buy the residents gifts. Now that we know the residents and their personalities, it wasn't hard to up pick something up we knew they would love. I was given the task to find a present for Laur with Lucy. We knew that anything related to Minecraft would work for him as he has been hard at work making houses in his game and calling them after us. In the evening, we sat down for another tasty dinner, a traditional Romanian stew served with polenta. Although it didn't look very appealing it didn't disappoint! After one last tidy up it was off to bed for a good night's rest ready for another busy summer school.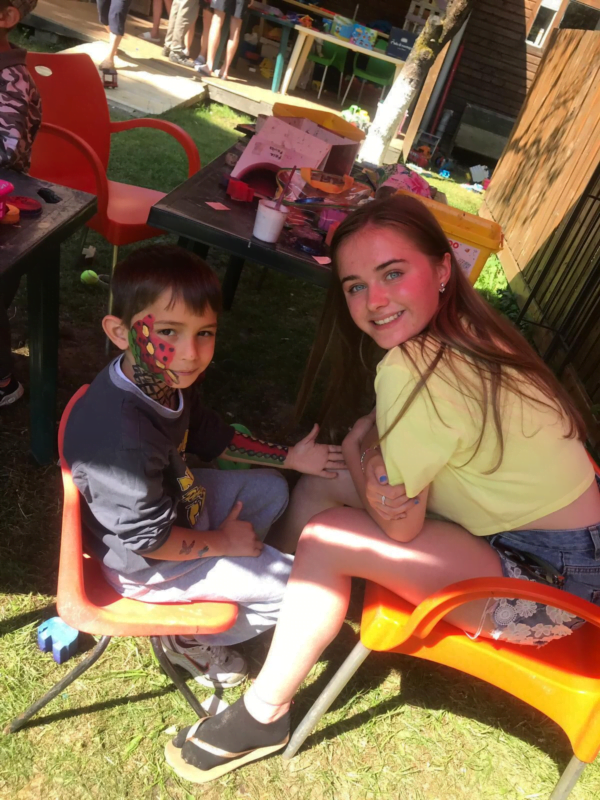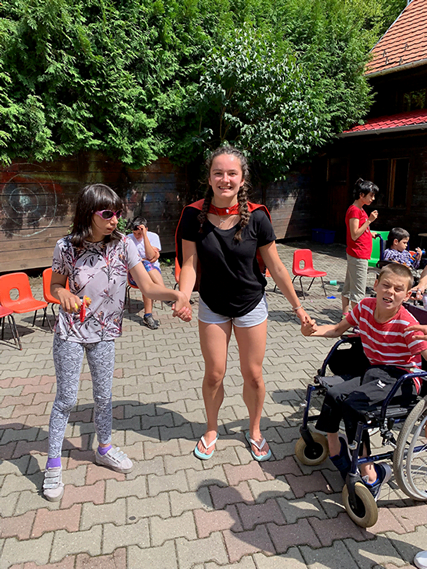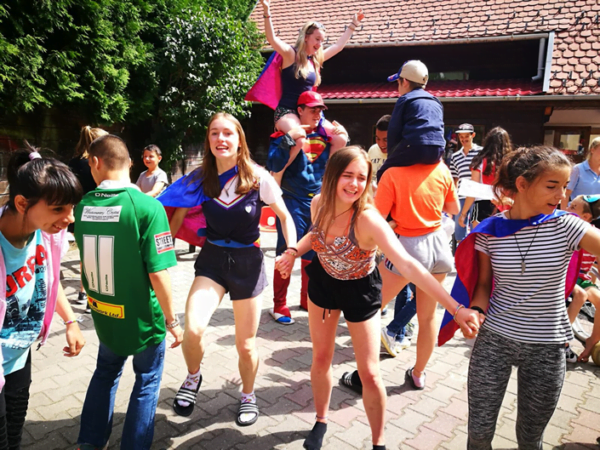 24/07/19
Another busy day!
Written by Amy
Wednesday's breakfast was possibly the quietest as the seven previous days of summer school had taken its toll. Despite this, as soon as the kids arrived the spirit was lifted, and a fun-filled day was had by everyone. A more relaxed approach was taken and even the most active of the kids wanted to chill out on the trampoline. Because summer school was so busy everyone was occupied with a group of kids – whether they were chasing around playing zombies or simply making bracelets. We had a bus from the hospital which meant a group of much younger kids arrived and this presented new challenges from what we had previously been dealing with. By now, we were getting used to the preferred activities of each child and new children brought new personalities to interact with.
After summer school we went to the outdoor swimming pool and because it was such a hot day and everyone was excited to take a dip. After we all slid down the slides and showed off our best dives we decided to chill in the sun following a busy morning. Unfortunately, it clouded over within 20 minutes of us lathering ourselves in sun cream, so we all decided to shower instead. Although the shower was freezing cold it topped dunking yourself in a bucket! Smelling fresh and clean we all got dressed up to go out for dinner and a special mention has to go to Alex for his eccentric orange shirt. We had a lovely meal and then headed back to Little John's where Nicu, our driver, introduced us to his favourite song 'In My Bedroom'. Once the rave was over, we all headed to bed, preparing for another busy day at summer school.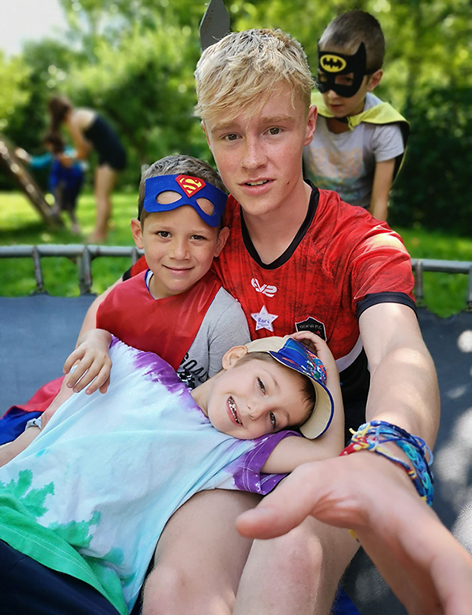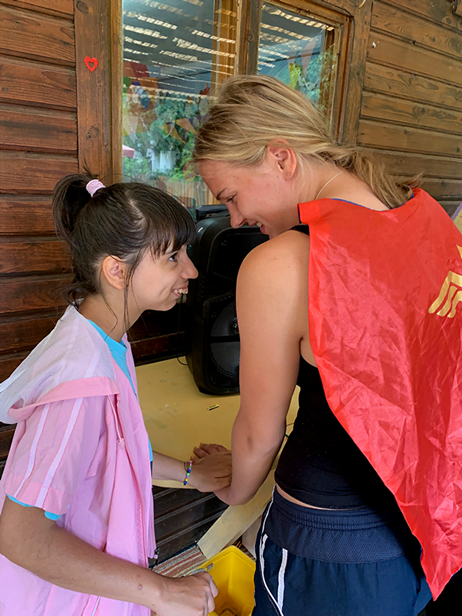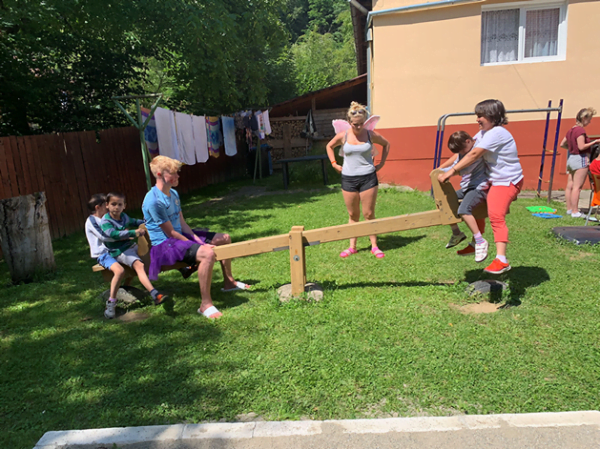 25/07/19
The hottest day yet.
Written by Kara
Yesterday was possibly one of the hardest mornings to get up. We had been so busy this week. As the children started arriving, we got to see some new faces, as well as the excitement from the children that had been here before and we were eager to get summer school started when they arrived. After a more relaxed approach was taken yesterday, the children were all fun and games. Circle time came around and the children got given their drink and their snack, (with the volunteers making sure the leftovers are taken care of). It was the most amazing homemade donuts! After they were finished, we performed our dance, and this time some of the children were starting to join in. Summer school went by in a flash today.
With summer school over for the day, we got split up into groups to do some organisation, one of the tasks was to run to the well to fill the water container, in preparation for the water fight tomorrow. Another was to continue painting the bathrooms, and the last task was to organise the cupboards, (which was a challenge!). Once finished, we had a trip to the shop to get an ice-cream and a drink because today was the hottest yet. While we were hard at work, Nicu was preparing a barbecue for us. It was the best meal yet! After the meal we were surprised with a cake which Lily kindly got personally made for us. In the evening we sat in a circle with a guitar and had a sing-along, which was a perfect end to a busy day.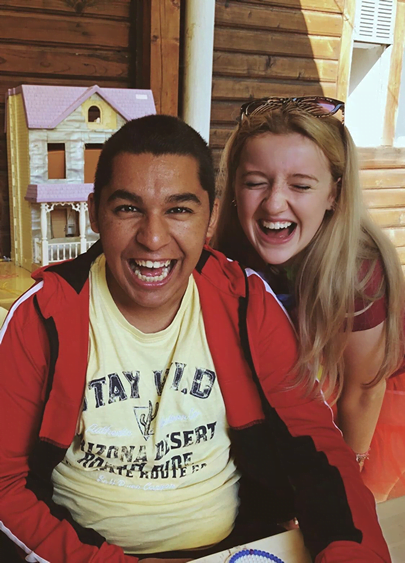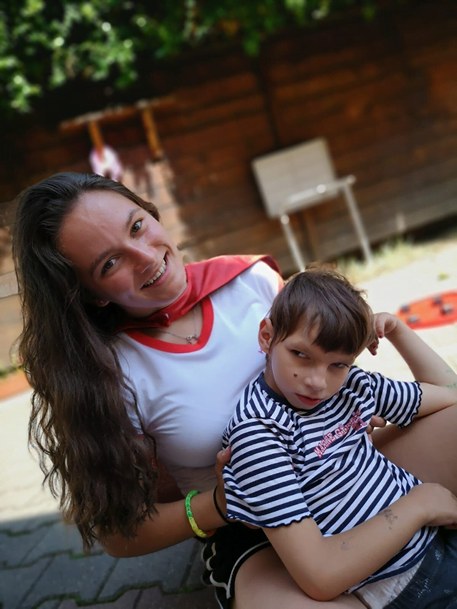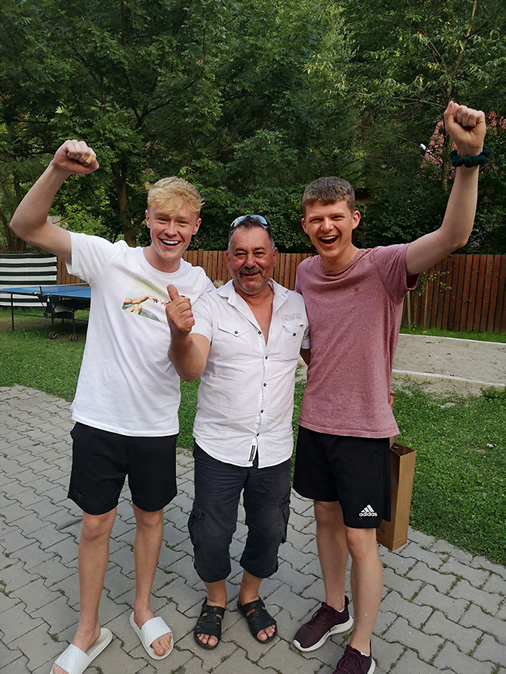 26/07/19
Our final day.
Written by Ruby
Our final day of summer school brought the same high energy which has been constantly present over the past two weeks. As the children from the hospital were not present there was a little bit less chaos and more time for us to reflect upon our experience in Romania. By the time the last circle time came around we all were hoping we would never have to listen to "Toxic" or "Fireball" ever again – both firm favourite songs of the summer school attendees! There were lots of hugs as we all gathered by the front gates to wave off the children for the last time, ending our summer school experience.
The afternoon was very relaxed as we drove to the mountains to sunbathe, play games and sing. This chilled out vibe was short lived as the residents were waiting for us, water guns filled in preparation for the notorious final day water fight. Costica, one of the residents, had constantly been saying "Apa", Romanian for water, all week so we were happy to appease his wishes. All the residents got involved, with Laur ending the fight by soaking the teachers. They were not best pleased.
After dinner, we gathered on the courtyard for a final show for Mags and the residents. We performed both our "Footloose" and "Don't stop me now" routines, perfecting even the hardest moves in both. This was followed by an acoustic sing along and Laur's disco complete with strip lights, glow sticks and a disco ball. We finished the night on the trampoline looking at the stars whilst singing to our favourite songs from the trip.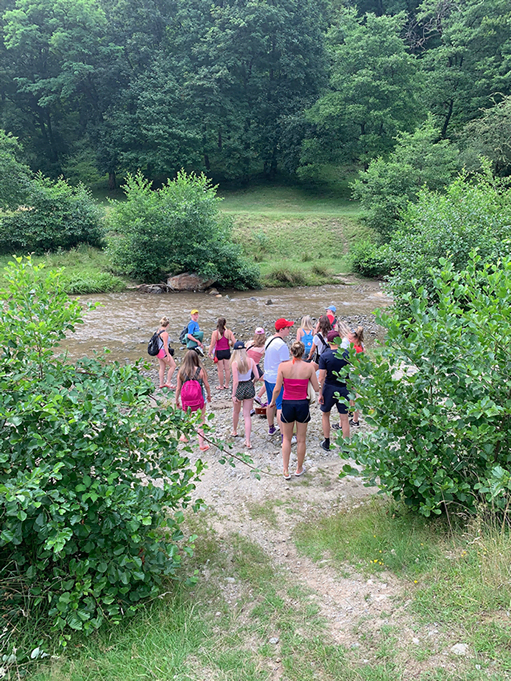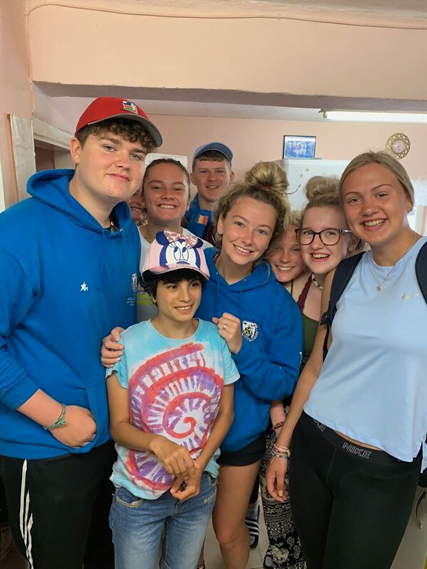 27/07/19
The overall experience.
Written by Molly
When looking back on our experience at Little John's House, one of the things that stands out the most to me is the absence of anyone being particularly homesick. I think this is due to the homely and loving environment that Mags has created for all the residents and any volunteers staying within Little John's. From when we first arrived at the house to the minute we left, there was never a dull moment. The project has definitely exceeded my expectations in every way as I think everyone on the trip has experienced their ups and downs, it can be challenging dealing with such a wide variety of children with different needs and personalities, but as the last bus full of children left, all with smiles on their faces, it was the most rewarding feeling in the world.
Seeing the impact first hand that we had on the children, just by dancing with them, painting their faces or dressing them up in a silly costume, left us with our hearts full and our eyes glassy with tears. The amazing hospitality from Mags, Beth, the house ladies who cooked our meals and the bus drivers Nicu and Laurentiu were unmatched and the personalities of the residents Vlad, Costica, Laur, Anna, Julia and Andrana will always hold a special place in my heart.
One of the most raw and emotional parts of the project was being told by Mags about the background of each resident and how they came to be at Little Johns, as it was amazing to see and hear about how far they have come and how much happier they are because of such an amazing organisation. I think each of us has learned so many valuable lessons at Little John's that even just the little things we do can make a huge impact for a child who is struggling. The project has also brought us all so close and has given us an amazing sense of belonging to a group where everyone is appreciative of each other and helps each other out.
Our experience at Little John's has been something we will never forget, and I think it has helped to shape each of us as people in terms of becoming more mature and given us a better understanding of how to deal with sensitive situations.