On Sunday 17th July we woke up at the Belvedere Hotel at 8am sharp to make sure we all had enough time to fill up on the fresh breakfast buffet downstairs. We quickly left on the minibuses with tunes blasting to go to the Bear Sanctuary – cleverly named 'Libearty' because it gives freedom to bears who previously have been in captivity/abused. At the Bear Sanctuary we saw all the bears that have been rescued and saw them feed. We also saw the other rescued animals the Sanctuary has saved, such as dear, fox, turtles etc. After the hour tour of the Sanctuary, we went to a market in Bran (a small town near the Sanctuary) that sold traditional items such as beautifully decorated bowls and cups and clothing. Many of us are certainly coming back with heavier suitcases as a result of our visit. There was also a castle that people could walk up to, which is supposedly Dracula's Castle – we all thought it would be great to go at Halloween! Once we were all shopped out, we headed back on the minibuses for the journey back to Cisnadioara. Overall, Sunday was a fabulous day ending with a group dinner back at little John's house, filling us up ready for the week ahead!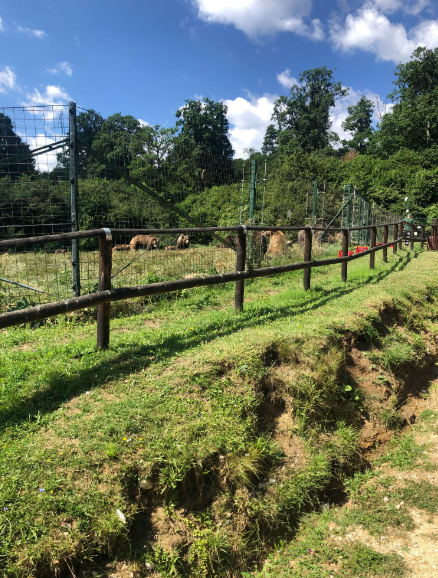 After our relaxing weekend in Brasov, we were all eager and rearing to go for Summer School week two on Monday morning. Everyone was excited to meet the newcomers, as well as welcoming back some familiar faces from the previous week. The familiar joy and laughter of Summer School returned once the buses had dropped off our visitors and we had a great morning in the sunshine. After a busy morning and some lunch, we headed into Sibiu to buy presents for the residents who we had grown to know well over the past 7 days. After buying the gifts we headed back to the house for a traditional Romanian meal of stew and polenta – as ever, it was delicious. We ended the night with a game of basketball and headed to bed tired, but looking forward to tomorrow.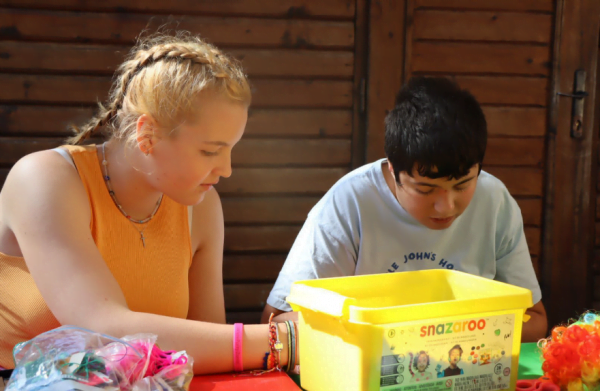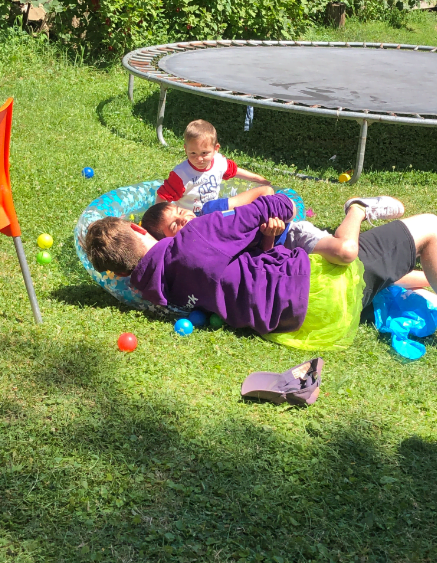 Tuesday morning started bright and early for the breakfast team, making teas, coffees, and grilling toast for the group to enjoy at breakfast. As breakfast crew washed up in the kitchen, everyone else began to set up for another exciting day of Summer School. Along with the smiling, familiar faces running off the bus to hug or high five every one of us, there were new, apprehensive yet eager faces, excited to get started once we held their hand leading them through to the fun and games in the garden. With our new splat wall being enjoyed by many and one iPhone being launched into the bushes, another day of chaotic yet successful Summer School was done and clean up felt quicker than ever, leaving us time to pack for a highly anticipated afternoon at the Salt Lakes. After the short journey there, we wasted no time and jumped straight into one of the Salt Lakes. it was so cool and refreshing and very tempting to put our heads under, which the boys soon realised was a bad idea! After an ice cream, we coated ourselves in the smelly mud (which is thought by the locals to have healing powers) and waited in the sun till it dried. What we hadn't anticipated was how hard it would be to wash the mud off, and so we spent a while in the showers! Still smelling not the nicest but feeling soft and rejuvenated, we headed back to Little John's for another Ukrainian dinner which was, as usual, very delicious.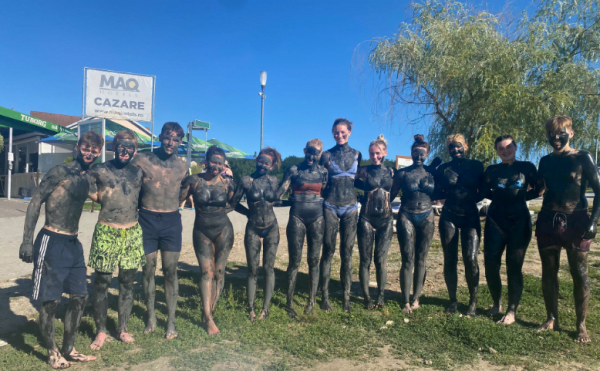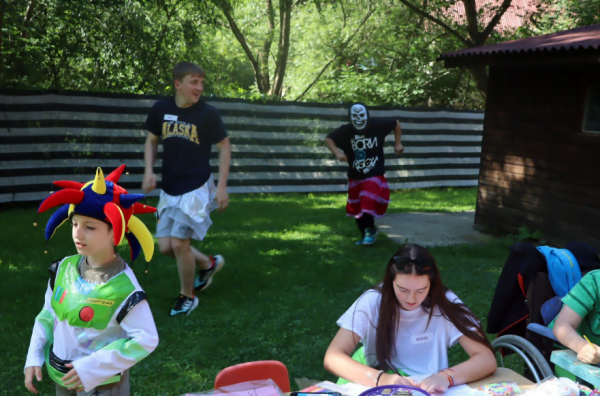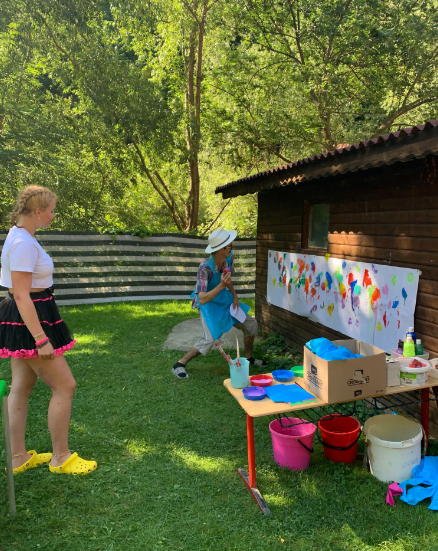 The well-established post breakfast routine ensured the slick set up for another lively day of Summer School here at Little John's House on Wednesday. Speeding through our second week's stay, eager to make more special memories, the rumble as the buses arrived meant only one thing – let the magical mayhem begin! The relentless heat quickly made 'chase' around the outside of the house a little bit more challenging than normal. Laughter subsided and hot rosy, red cheeks settled to more relaxing crafty pursuits. Smiles all round for the proud exhibits of creations made! The daily invitation for ice cream was welcome in the arduous 35 degrees heat, which was followed by a relaxing afternoon of sun, shade and siestas – a well-earned welcome break after having our energy zapped by the sun today. The lazy afternoon atmosphere was short lived, there was a double celebration to be had! The twin's birthday! Renditions of Happy Birthday (La Multi Ani in Romanian) rang out around Little John's, while delicious birthday cake was shared and enjoyed by all. What a treat and just the energy boost we needed for creating our mural on the wall – a traditional trademark for all those lucky enough to be involved with this rewarding, memorable, special place, Little John's. After yet another scrumptious dinner, tonight's amusement – Heads Up! Lethargic with laughter, we hauled our sun soaked bodies off to bed, excited in anticipation for what tomorrow will bring!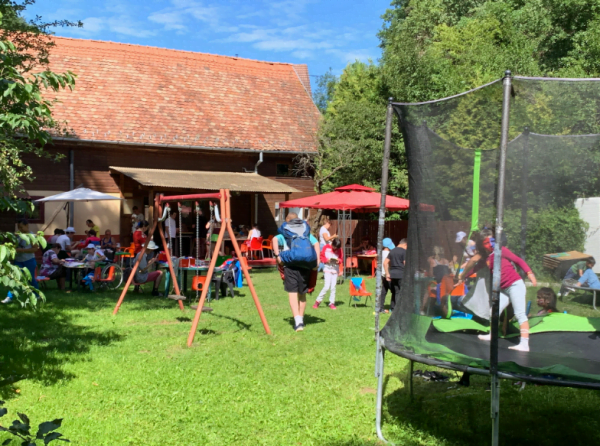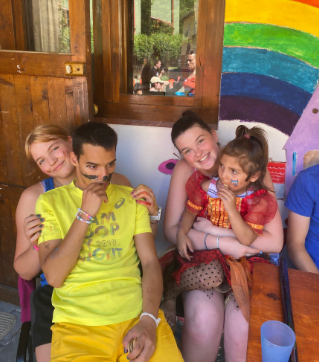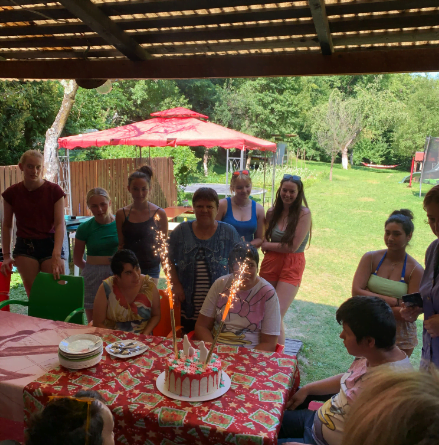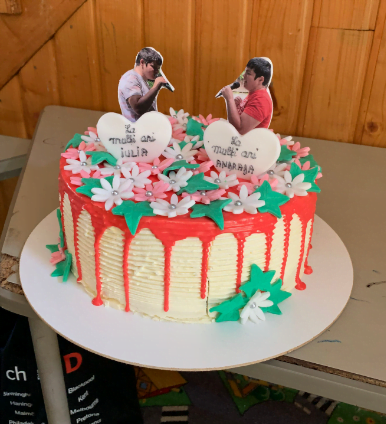 Thursday was the penultimate day of Summer School, and our time here was nearly over. Me and my team were on welcoming duty, so we were all dressed ready to welcome the kids on their arrival. And as the kids arrived and the chaos began, it was the beginning of another successful day. Today at circle time it was a rarer occurrence as we played musical chairs and we all enjoyed watching the winners unwrap their gifts! As the kids began to leave, lunch was set up by my team. We also had an early lunch today as we had an action-packed evening involving a swim in an outdoor pool in the neighbouring village – it was certainly a welcome visit in the heat, and also a great opportunity for a decent shower before we headed home! To finish we had dinner in Sibiu, followed, of course, by ice cream. Once we were back at Little John's some of us played cards before heading to bed, with a slight sadness as we knew tomorrow was our final day.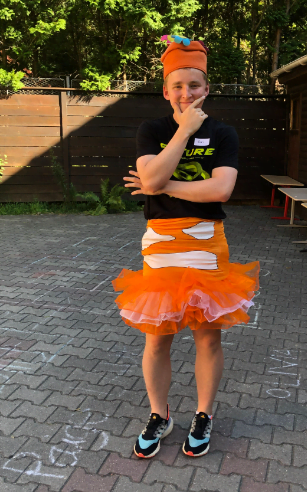 Friday began with a 6:45am wake up, then dressed and downstairs to our usual breakfast prepared by the breakfast team for the day. There was plenty choice of cereals, toast and fruit with both hot and cold drinks. After the usual table chat and daily briefing from the teachers, we were back into our familiar pattern of preparing for Summer School – one last time. The first bus appeared at 9.00am sharp, accompanied by the usual smiling faces and excitement of the children. Then it was back to normal – children bouncing on the trampolines, making bracelets and shooting baskets. The last day brought with it more sentimental activities such as taking photos and signing T-shirts to remember the moment when looking back on it. And before you knew it, time was up. Emotional goodbyes followed as the buses left, with the overwhelming sadness of hugging and high-fiving every child who we'd bonded with for the last time. Next on the list was lunch in the scorching heat and a big clean up and last sweep of the garden and downstairs rooms. We enjoyed our lunch in the garden, soaking up the last of the heat; with cutlery needing to be cooled in glasses of water so that we could hold it. The evening was one to look forward to. We enjoyed a traditional barbecue in the fading evening sunshine, joined by Ukrainian refugees and other friends and volunteers. Before food we were entertained by singers from a local music school who had volunteered to perform at Little John's. Their talent was evident but what was most impressive was their confidence in front of the crowd; the youngest singer being only six years old. After a tasty barbecue dinner, we attempted to culture the locals with some traditional Scottish dancing and singing, as well as passing out some final gifts and thanks to everyone who had contributed in whatever way to making the Project so special. The last day ended with a short disco outside. We all had fun, embodying the spirit of Little Johns and everyone involved. The last day ended the right way, with a hint of sadness but more in celebration of the life changing last two weeks we had all experienced as a team.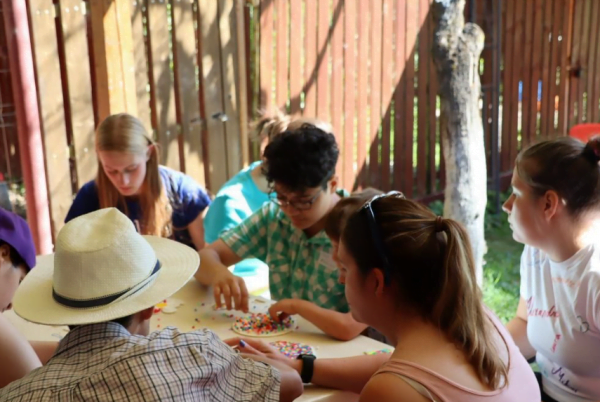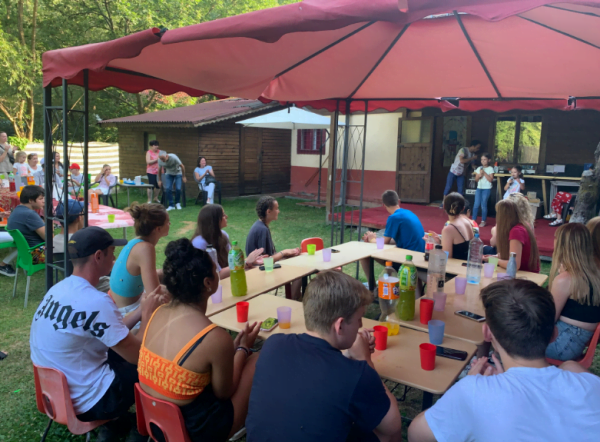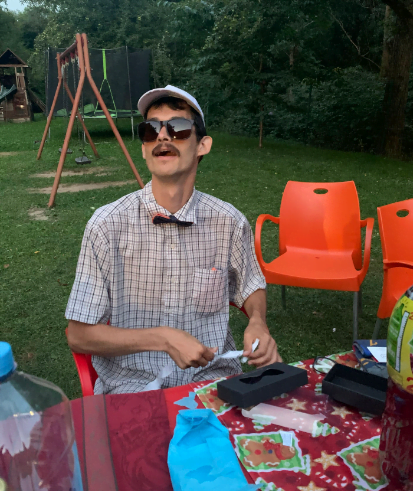 I am currently writing this early in Sibiu airport on Saturday morning, and can honestly say that these last two weeks have been both some of the most eye-opening and gratifying weeks of my life. As a group we have all found out lots about each other and have become closer overall. It has been very tough, with some moments where we wanted to give up, but all of us stuck with it, for better or for worse. When I talk to everyone, there is a general sense of wholeness, everyone here feels like they have accomplished something great, and if you got to see the smiles on some of the kids' faces, you would agree. Through all of this, however, there is also a very overwhelming tiredness. Whether that is due to the 3:30 wake-up this morning, or the two weeks of endless action remains to be seen, but credit where credits due, they are all acting like champs. As a final word, if you are reading this and are planning on doing some charity work, or want to do this same project, I would say do it. Even if you don't think you'd be very good you'd be surprised by what you could accomplish, because I know I was. It was a great experience that tested us all at times, and, in my opinion, there is no feeling more rewarding than that.