This competition would see some of our Junior pupils performing a range of Burns poetry, dancing and singing in front of their peers and to a panel of judges. After the competition, the pupils would enjoy a delicious Burns Supper before the winners of the competition would be announced.
Of course, this year, this annual event was not able to take place in its current form. However, our Junior School still ensured that the pupils would enjoy their Burns Competition, albeit virtually. On 25 January, all of our Junior School logged into Zoom to watch eight pupils perform a variety of Burns songs and poems.
This year, our judges were Mr Lumsden, Head of Chemistry and a member of the Dollar Burns Club, Mrs Kate Murray, Head of English and actor Mr Ewan Petrie, who has previously performed many Burns poems.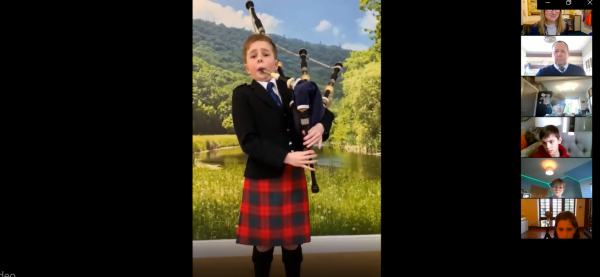 This year, the finalists and their performances were as follows:
Lily (Junior 1) – 'Auld Lang Syne'
Molly (Junior 2) – 'A Fond Kiss'
Olly (Junior 1) – 'A Red, Red Rose'
Jessica (Junior 1) – 'Brose and Butter'
Ava (Junior 2) – 'Auld Lang Syne'
Daniel (Junior 2) – 'To a Mouse'
Caoimhe (Junior 2) – 'Winter it is Passed'
Eve (Junior 1) – 'Auld Lang Syne'
All the performances were completely unique and everyone thoroughly enjoyed this celebration of Scottish literature.
Miss Renton, Assistant Head of the Junior School said: "I'm extremely proud of all our pupils who have managed to adapt to performing over Zoom – they were all fantastic."
After the performances, Junior School pupils enjoyed a short video of Ben (Junior 2) who had recorded himself playing his bagpipes.
The judges now had the difficult decision of selecting three winners. On Thursday 28 January, the winners were finally announced during the Junior Assembly.
Congratulations to Caoimhe, Jessica and Daniel who were awarded first, second and third place respectively. You can watch their performances by clicking on their names.
The Dollar Burns Club is also kindly awarding all eight finalists a copy of 'Tam O'Shanter'.
Well done to all the pupils involved in this competition, and thank you to the Junior School staff who kept up the Burns tradition, despite the challenging circumstances.