Over the past two months I have been a member of the RSNO (Royal Scottish National Orchestra) Community Orchestra: All Together Now.
The RSNO Community Orchestra welcomes amateur musicians from across Scotland, and is a mixed ability ensemble, roughly aimed at musicians at around grades 1-4.
I attended 3 virtual and 1 in person rehearsals. At the first virtual event we found out the piece of music that we would be performing was 'A Night On The Bare Mountain' by Modest Mussorgsky and met the conductor. At each rehearsal we practised and performed the piece, and we went into breakout rooms. As I play the Alto Saxophone I was part of the Woodwind section. In the virtual rehearsals you play on mute, so no one else can hear you.
I was the youngest member of the orchestra and enjoyed working along side musicians of all ages. Whilst I was very nervous, my favourite experience was the in person rehearsal and getting to meet and play with professional members of the RSNO. We also met the arranger who prepared the music for the Community Orchestra.
After the rehearsals we all recorded our individual piece and the RSNO merge them together to create the final virtual video performance.
I'm looking forward to the virtual after party in November where the 2022 RSNO Community Orchestra plans will be revealed. I really enjoyed the whole experience and can't wait for the next project.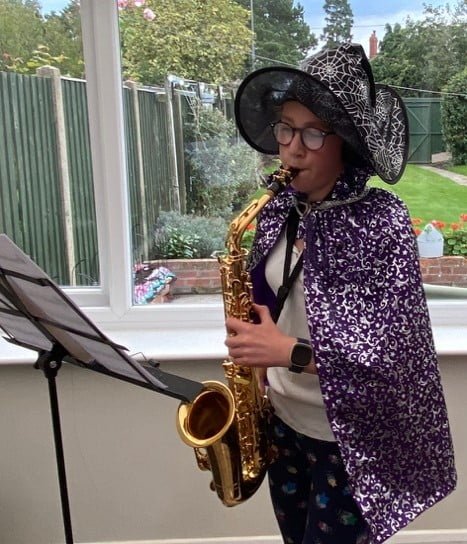 Me playing the piece (as a witch) for the final video.
By Charlotte S J2L