As part of Dollar's Discovery Day events, every pupil in Form I spent the day outside, exploring and learning about our local landscapes and how these are impacted by climate change. A particular focus of the day was on developing pupils' natural-world vocabulary and, thus, their sense of stewardship over the landscapes around Dollar and beyond. The plan was, of course, for bright sunshine and blue skies– unfortunately, that didn't quite come to pass. But our pupils were resilient and stoic in their response to the conditions, donning extra layers, waterproofs, hats and gloves with delight and plunging out into the elements on a day when even the hardiest would have taken shelter indoors. Some particularly foresightful pupils had even brought umbrellas!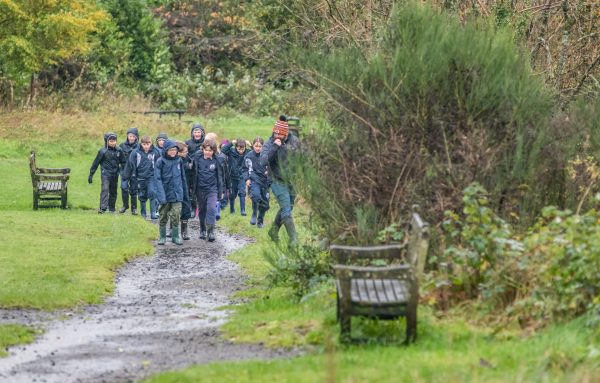 Under the close supervision of teachers from the English, Geography and Classical Studies Departments, pupils took part in a range of activities, and each session required pupils to think, in some way, about how these landscapes are threatened by climate change. In Mill Green, Form I pupils learned to identify some of the trees, taking part in a scavenger hunt for poems hanging from branches and discovering each tree's carbon number.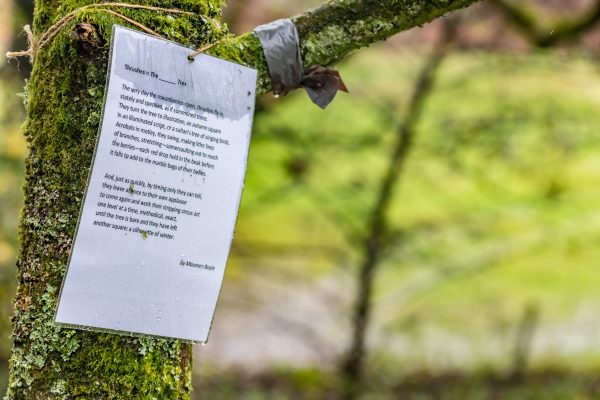 In lower Dollar Glen, they took part in a session about the burn, exploring its vulnerability to flooding and erosion. In a talk at the River Devon weir, local author Keith Broomfield (If Rivers Could Sing) shared his knowledge of this extraordinary local river and the species that live on it, in it and near it…even as the flood waters rose around them. Almost every group was fortunate enough to see salmon and brown trout leaping up the falls as well, and the wonder of this was not lost on anyone.
Pupils then walked back to Dollar, through the driving rain, where they spent time at the old railway station on what is now the Dollar-Tillicoultry cycle path. Looking at a historical photo of the station, they talked about transport and industry, how these have evolved over the past 150 years and how they are continuing to evolve. Pupils also learned about how to understand and discuss the weather in precise and accurate terms; this was especially interesting as the weather was constantly changing over the course of the day. All of this led to a final poetry task: writing and performing haikus. Through it all, our pupils were powerfully engaged and positive, curious about all there was to do and learn; this was very impressive given the chilly, wet and windy conditions.