A small, but perfectly formed group of Form V pupils: Chloe Read, Dominic McGinley and Archie Duffin, alongside staff members Dr Payne, Mrs Inglis and Mrs Stanhope spent six days in Rovigo, near Venice in March. They were joined with ibook adviser Mr Jim Shields, former Head of Biology at The Glasgow Academy.
They worked in a group of 25 pupils and teachers from schools in Spain, Belgium, Croatia and Italy, with pupils working in international pairs for much of the time.
Two days were spent producing materials for the two year Erasmus funded project on ebooks which was coordinated by Dollar Academy. These materials included digital books which consisted of information about a range of widgets (small programmes to make a variety of products such as crosswords, quizzes and galleries), a video they had produced about the widget and a sample.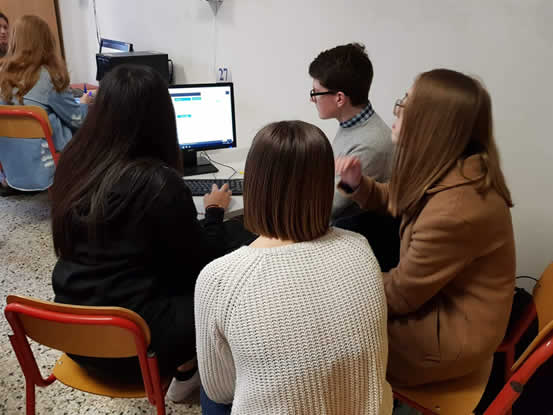 These books will be uploaded to the project Mrs Stanhope (IT Trainer at Dollar Academy) alongside other materials for the use of teachers and pupils for teaching and learning purposes.
Another day was spent training over 60 Italian pupils how to make useful widgets such as flashcards and quizzes (great for revision purposes). Dollar Academy also ran a lunchtime club for pupils as part of the project.
On the last day, a webinar on how to make flashcards was run from Italy which connected pupils in Mr Florence's Form I Science class at Dollar Academy.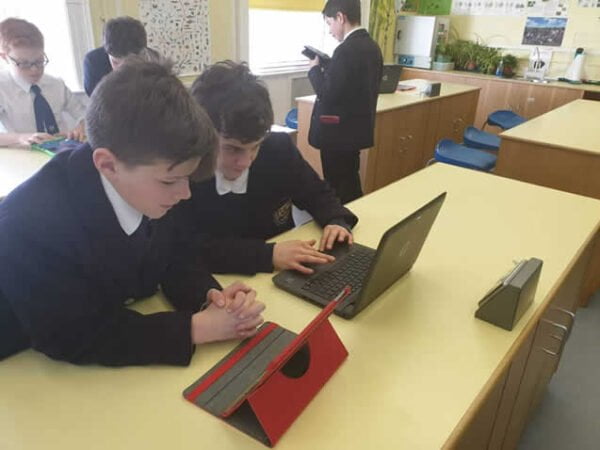 The pupils commented that this activity was 'great fun' and another webinar is planned in the near future, with all pupils working together via a webinar app.
The Erasmus+ funded PUBLiSH (Production and Use of digibooks for Learning in Schools and at Home) project has now ended. This two-year long project was co-ordinated by staff at Dollar Academy , who worked in conjunction with teachers from schools in Belgium, Croatia, Italy and Spain to investigate the use of digibooks/ebooks in schools.
Details of the project, including meetings attended by staff and pupils from Dollar Academy and products (digibooks and widgets) of the work carried out over the two years can be found on the project website.