A warm welcome
to Dollar
---
Boarding at Dollar Academy looks and feels different to many other schools. As you will see from this website, our boarders live in period houses that balance traditional charm with modern comfort and style, providing welcoming bedrooms, stimulating work spaces and contemporary social rooms. Moreover, our boarding houses are run by Houseparents who absolutely view the young people in their care as an extension of their own family. They keep a close watchful eye over the academic and pastoral development of every pupil in their house, supported by Assistant Houseparents, house tutors and a team of pastoral specialists.
Our houses are home to boys and girls throughout the age range, and with juniors and seniors mixing together, this again adds to the family atmosphere.
Watch Our 360 Boarding Tour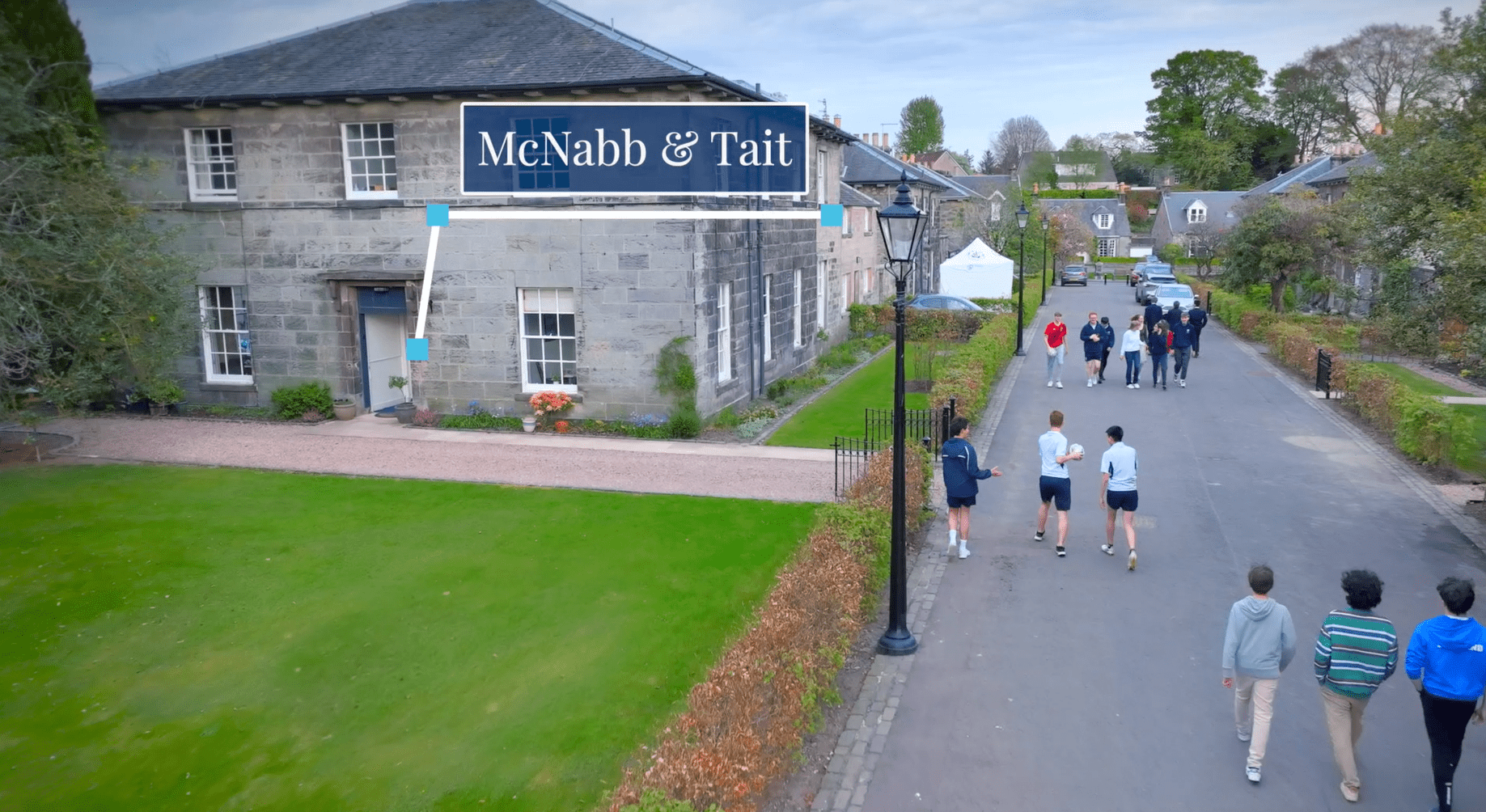 Heyworth House
---
With space for up to 25 girls, Heyworth House offers a fantastic environment for boarders to socialise and study in. Located just on the edge of our campus' verdant lawns, this beautifully restored example of Victorian architecture is just a short walk from the school's ample range of facilities, not to mention the cafes and shops of the local village. The House itself has extensive gardens, ideal for the summer weekends when the BBQ comes out, and the books get put away for a while.
This is a very friendly boarding house and the girls get on well in an environment of interdependence, understanding and mutual respect with a keen understanding of the strengths of those around them. There's a distinctly modern feel to Heyworth with its range of double and single bedrooms, dining kitchen and communal spaces. Wi-Fi access is available throughout the house and there's also a computer suite with high-speed internet access and video calling facilities – so there's no excuse not to call home, no matter how much they're enjoying things!
McNabb and Tait House
---
Warm, welcoming and every bit the family, McNabb & Tait House is home to around 52 boys of the Dollar boarding community. Each one is recognised as an individual, however – a fact that's definitely reflected in the ethos of the house.
There's a strong emphasis on the pursuit of each boy's co-curricular interests and, as with the girls' houses, all campus facilities are within close distance. McNabb & Tait House and the boarders who call it home during term time have built a reputation for making a big impact within the school, especially in the disciplines of sport, music and drama.
Recently refurbished, the rooms make for a comfortable and practical place to balance life's personal and academic sides. There is room for up to 52 boys in McNabb & Tait and rooms are comfortable, modern and colourful. Younger boys share, between two and four to a room, while the older boys have single or twin rooms, some with en-suite facilities and all recently refurbished in the last few years.
Argyll House
---
Sitting right at the school gates, overlooking the lawns and playing fields, Argyll House is home to an enviable living space that brings together delicate period design with the cozy familiarity of a real family home. During term time it comes alive with up to 25 girls, from ages 10 to 18.
All of the facilities of the school, including the gymnasium, swimming pool, tennis courts and the school art studios are virtually on the doorstep, ready for the girls to make the most of. The property itself boasts a movie and games room, a large common room, study areas, an ample number of individual shower rooms and baths, as well as a kitchen-diner (ideal for snacking and socialising in the evening).
Not forgetting the computer suite, of course. This room is well equipped with high-speed Internet access and Skype facilities – meaning that keeping in touch with relatives is easy. Younger girls can look forward to sharing a bedroom with one or two others, whilst older girls can take advantage of a private single room that is ideal for studying.
A Typical Week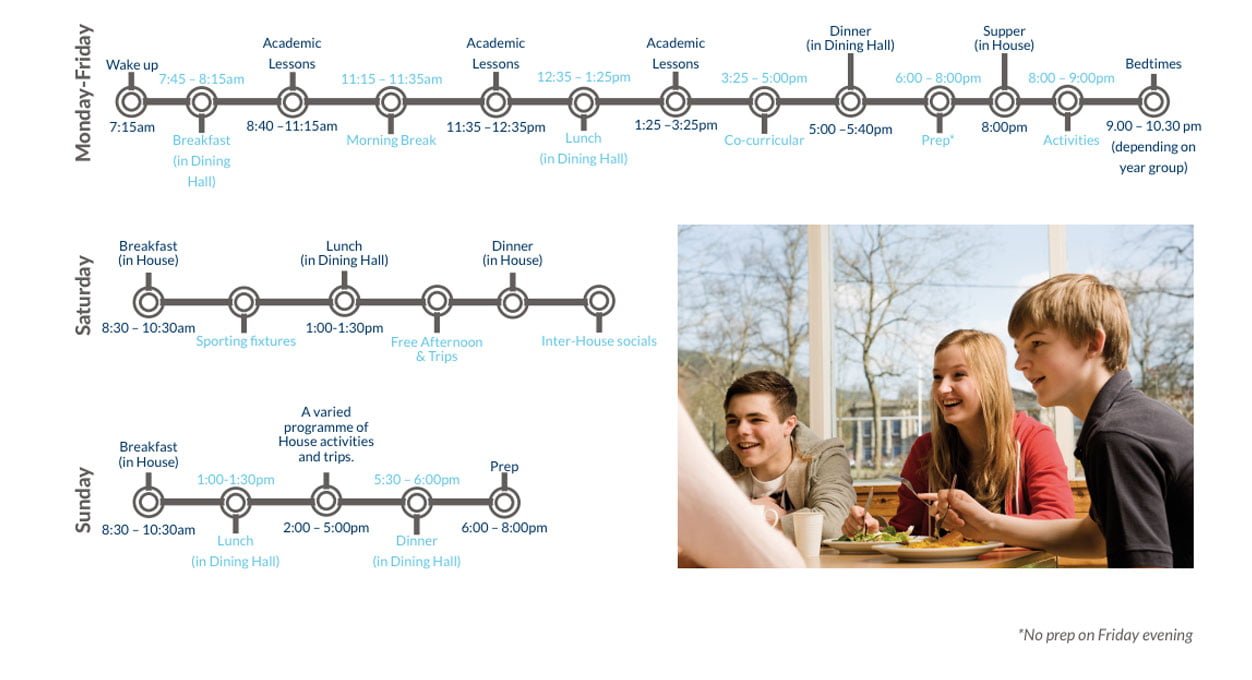 Food
Our catering staff cook award-winning, healthy, locally-sourced food on site every day. Our boarders each get breakfast, lunch and dinner in the dining hall from Monday – Friday. In addition, a snack after school (often delicious, fresh home baking) and a light supper around 8pm are provided in each boarding house.
Communication
Parents can telephone, text, email, send letters and parcels or contact via Skype/FaceTime/Zoom. While parents are welcome to visit the house whenever they are in the area, lessons and homework times are fixed, so it is best to avoid arriving at those times. Houseparents will also maintain contact with parents (usually by email), with regular updates and academic reports.
Medical
Our nurses are on hand during term time to attend to the health needs of all pupils. Based in our dedicated and well-resourced Nursing Centre, Nurse Finnie and Nurse Scott provide health screening, medical examinations and vaccination programmes in line with National School Health Service guidelines. They also help teach health-related topics in the School's PSE programme. In addition, we will register all of our boarders with Dollar Health Centre, the local GP surgery.
Weekends
There are plenty of activities to keep our boarders occupied at weekends. Many will choose to be involved in sports fixtures on Saturday morning. Every Sunday afternoon there is a full programme of trips to interesting places and fun events, including sporting events, theme parks, paintballing, go-karting, laser quest, treasure hunts, climbing walls, shopping trips, the cinema, shows and concerts. Boarders can make use of the excellent sports and recreational facilities on site including grass and all-weather playing surfaces, a fitness suite, swimming pool, sports halls and music rooms. They can also visit day pupil friends, or go into town, within reasonable limits and with permissions in place. Senior boarders are permitted to visit Edinburgh and Glasgow for the day. All organised excursions are accompanied, and pupils are always given safe and appropriate guidelines for their own activities.
"We saw highly sensitive and caring attitudes from boarding house staff, which helped them to clearly establish the ethos of home from home in a family atmosphere in the houses"
---